BOUNCE & DONK ANTHEMS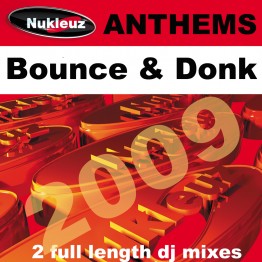 Pioneering internationally renowned dance label Nukleuz saw its 11th birthday this year and is going from strength to strength combining new raw talent with established scene leaders and cleverly remixing of some of their immense back catalogue. Nukleuz has been the home of some of the World's greatest and most respected dance stars including Mauro Picotto, BK, JamX, Andy Farley, Nick Sentience, CRW, Mario Piu, Lisa Pin-Up, Stu Allan, Alphazone, Organ Donors, Breeze & Styles, Joy Kitikonti and more! In recent times Nukleuz has been striving to build up new artists Pierre Pienaar (P.H.A.T.T.), Andy Whitby, Will Atkinson, S.H.O.K.K. Cally & Juice, Joey Riot, Audioscape & JAKAZiD.
DOWNLOAD FROM:
Itunes">iTUNES
Now for 2009 the team unleash all the biggest tunes in their arsenal which earned them the titles Music Week Label of the Year and the UK's # 1 Vinyl label for 3 years in a row, as well as having the last ever vinyl only Top 40! Featuring tracks and mixes from the biggest bounce and donk stars playing at all the biggest parties across the UK including Sound Selektaz, Hyper Deejays, Bad Behaviour, Outsource DJs, Total Control, Bass Slammers, Andy Whitby, Klubfiller and many more on 2 exclusive DJ mixes Nukleuz prove why they have spent 11 years at the top!
Tracklist
CD1
1) Stu Allan vs Barley 'Sensation – Sound Selektaz Remix'
2) Hyper DeeJays feat Jenna C 'Don't Stop Movin – Bad Behaviour Remix'
3) Fonzerelli 'Moonlight Party – Outsource Club Remix '
4) Connected ft Max'C 'A Feeling – Outsource Remix'
5) Rachel Loy 'I Can Feel It (Lovin' Me) – NRG Mix'
6) Nukleuz Kollective 'Run To You – NRG Mix'
7) CRW 'I Feel Love – Total Control Remix'
8) Nukleuz Kollective 'Dreamer – NRG Mix'
9) VISA 'With Every Heartbeat – Total Control Remix '
10) Mario Piu 'Communication – Hyper Deejays Remix '
CD2
1) DJ Foe 'Boogie 2 Nite – Outsource Club Remix'
2) Andy Whitby & Matt Lee 'Everybody's Free – 2008 Bounce Mix'
3) Chocolate Party 'We Don't Have To Take Our Clothes Off – Bass Slammers Remix'
4) FERGIE & BK 'Hoovers & Horns – Andy Whitby vs Audio Hedz Remix'
5) LISA PIN-UP 'Blow Your Mind (I Am the Woman) – Stevie B Remix'
6) Ibiza Knights '(Feels So) Good To Be Alive – Bass Slammers Remix'
7) Chocolate Party 'Pump It Up – Bass Slammers Remix'
8) JAKAZiD feat Barry Scott 'Cillit Bang – NRG Mix'
9) Love Assassins 'Teardrops – Bass Slammers Remix'
10) Ibiza Knights 'Breathless – Andy Whitby Vs Klubfiller'
Album Links:
Itunes
Related Posts