Frantic DJ Legends: Mixed by A+D+A+M Lab4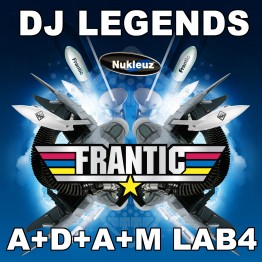 Frantic and Nukleuz have always prided themselves on consistently working with the hottest hard dance acts in the world. Tied in to Frantic's 14th Birthday party at Koko, London, this Frantic DJ Legends series aims to celebrate the now legendary status held by some of its favourite resident DJs and continues with A+D+A+M Lab4.
Tracklist:
1) Lab4 'Restless World – Original Mix'
2) AWeX 'It's Our Future – Original Mix'
3) Lab4 'The Ritual – Original Mix'
4) Stimulator 'The Spirit – BK's Tidy 6 Mix'
5) Eternal Rhythm 'Eternal '97 – Yoji Remix'
6) Brookman & Coe 'Anybody Everybody – Original Mix'
7) In2uition 'Confused Emotions – Original Mix'
8) Lab4 'Daisy Cutter – Original Mix'
9) Technical vs Ben Bennett 'Neutralize – Original Mix'
10) Ali Wilson 'Heatwave – Original Mix'
11) A+D+A+M Lab4 'Sensory Reload – Original Mix'
12) Lab4 'The Bitch – Original Mix'
13) Lab4 'U R the 1 – Original Mix'
14) BK 'P.O.S. 51 – Original Mix'
15) A+D+A+M+ Lab4 & The DiabloTraxx Collective 'Infernal Desire – Psycho Surgery Remix'
16) Various Artists 'Frantic DJ Legends: Mixed by A+D+A+M Lab4 – DJ Mix'
Download here:
iTunes
Trackitdown
ADAM Lab4 is a true Hard Dance legend starting his career as a drummer and producer at an Oxford recording studio where he teamed up with Lez and joined his band M.A.D. a relationship which lead to the birth of Lab4 in 1996. After Lab4 was happily laid to rest in 2007 Adam played drums for Maria Illet and Proteus, and worked on various studio projects including the Techno Industrial project 'The Judas Coven' which saw him take centre stage as lead vocalist where he instantly got described as the 'Iggy Pop' of industrial. In 2007 A+D+A+M Lab4 was born and played at some of the biggest gigs in the world including headlining Frantic's first Hard House Academy event in 2 years to a sell out crowd of 4500. 2009 saw a huge one off Lab4 event before A+D+A+M Lab 4 officially retired from the Hard Dance Scene in October 2010. Returning briefly for this album Adam has chosen some of his biggest ever records from his sets including some extremely rare cuts that have been all but lost dug out from obscurity and presented as a showcase of his floor rocking sound that has won him and Lab4 their huge army of fans and supporters over the years.
Career highlights: 100's of unbelievable gigs around the globe, #10 placement in Loud Magazines (Japan) Most Influential Live acts (2008), Best Live Hard Dance PA (2004, 2005 and 2006) in The Hard Dance Awards, # 2 in Mixmag's Best Live Act category and a live performance on BBC Radio1's live sessions for the legendary John Peel Show at Maida Vale. Lab4 also produced soundtracks for numerous adverts for various companies including Reebok, Bacardi, Pepsi, Polaroid and a million selling Sega game. Founded in 1997, Frantic are dedicated to the raw, exciting underground sounds of Hard House and only choose for their DJ line-ups real entertainers and performers who are visibly excited about what they do. Fuse this with cutting-edge sound and lighting technology and spectacular visual shows and you only get a little way towards the energy and passion seen at a Frantic event! www.lab4.com
Related Posts