Frantic DJ Legends – Mixed by Cally & Juice [Pre-Order]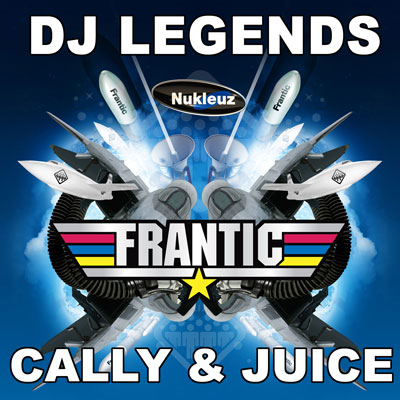 Frantic and Nukleuz have always prided themselves on consistently working with the hottest hard dance acts in the world. Tied in to Frantic's 14th Birthday party at Koko, London, this Frantic DJ Legends series aims to celebrate the now legendary status held by some of its favourite resident DJs and continues with Cally & Juice.
Pre-Order from: iTunes
"The music in our scene is more diverse than ever and we are proud to represent its many colours and flavours!"
It is impossible to mention Hard Dance in the UK without bringing Cally & Juice into the conversation. Their clever and unorthodox style behind the decks has won them many admirers around the globe and their constant re-writing of the rules keeps people flocking to the front of the decks to see what they'll be doing next. Whether it's frantic scratching over drum & bass or hip-hop beats, scratching with feet, blindfolded scratching or even hand-spins on the decks, you can guarantee these boys will keep you entertained.

With all that under their belts the boys show no sign of slowing down. Cally & Juice's passion and hunger for their work is stronger now that it was when first started playing back to back over 10 years ago. If you've seen them playing out recently you'll know what I'm talking about. If you haven't seen them out recently, make it a priority…you won't regret it.
In just one year Cally & Juice have played in over 120 gigs in 8 countries including some of the world's biggest festivals and have had a guest mix and interview for BBC Radio 1. 2011 is their busiest year in the studio to date including releasing their Bionic Decade Anthem which celebrates 10 years of their award winning live event and builds on their huge selling anthem Cally & Juice "All You Bastards" which is one of Nukleuz's biggest ever selling single 12" vinyl!
Founded in 1997, Frantic are dedicated to the raw, exciting underground sounds of Hard House and only choose for their DJ line-ups real entertainers and performers who are visibly excited about what they do. Fuse this with cutting-edge sound and lighting technology and spectacular visual shows and you only get a little way towards the energy and passion seen at a Frantic event!
www.callyandjuice.com
www.nukleuz.com
Related Posts