Frantic DJ Legends – Mixed by Steve Hill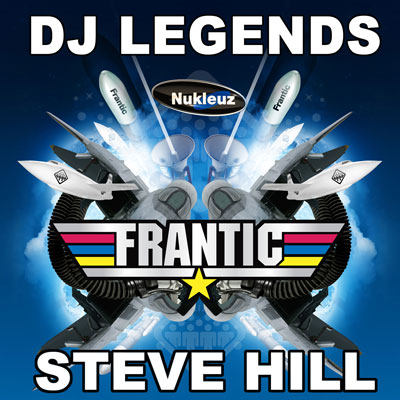 Frantic and Nukleuz have always prided themselves on consistently working with the hottest hard dance acts in the world. Tied in to Frantic's 14th Birthday party at Koko, London, this Frantic DJ Legends series aims to celebrate the now legendary status held by some of its favourite resident DJs, starting with Steve Hill.
Pre-Order your copy now on iTunes:
World (ex USA): http://itunes.apple.com/preorder/frantic-dj-legends-mixed-by/id452487695
USA: http://itunes.apple.com/us/preorder/frantic-dj-legends-mixed-by/id453138000
"The music in our scene is more diverse than ever and we are proud to represent its many colours and flavours!"
Steve Hill is the pint sized kiwi, nicknamed the King Of Euphoric Hard Dance. He has performed over 1500 shows in more than 50 cities worldwide, having visited more than 15 countries along the way. Since 1997, Steve Hill has played to a combined total of 900,000 people, travelled over 600,000km, flown on over 300 planes, and spent over 400 days staying in hotels!
Featuring artists like: Technikal, Costa Pantazis, CRW, Masif DJ's, Volts Wagen, Nomad Mix, Luca Antolini, Cortina, Nik Fish, Tony De Vit, Scott Attrill, JT Stanhope, Adrenaline Dept, Venetica, Stu Allan, BK, Neon Lights, MDA & Spherical,
Steve Hill vs Phlash!, Andy Whitby and Paul Glazby. Full tracklist available on iTunes.
www.djstevehill.com
www.masif.org
Related Posts