Frantic Residents 02 – Mixed by Andy Farley – Digital Re-release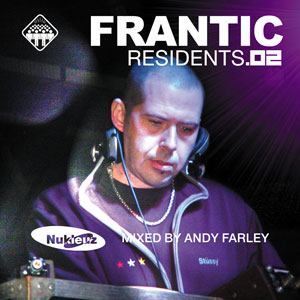 Frantic Residents 02 – Mixed by Andy Farley
Trackitdown
iTunes
Beatport
Juno Download
Audiojelly
DJ Download
Masterbeat
The Frantic Hard Dance brand and the Nukleuz label were pretty much joined at the hip at birth. The explosion of Hard House in the late 1990's created one of the most exciting and successful dance music explosions both in terms of the music released and the parties and events it spawned. One of these was the Frantic Residents CD mix albums. These were an antidote to the big budget TV advertised compilations and were a combination of the DJ's skills on the decks and the catalogue of great tracks Nukleuz were releasing at the time.
As time went on the content included non-Nukleuz material but the essence has remained the same.
This was the sound of Frantic & Nukleuz, its core DJs and the broader sound of the London Hard Dance scene. Most of these CDs were made as limited edition runs and now pop up on eBay for up to £50 a time. With this in mind we have decided to release them digitally for the first time and, as you can with digital releases, have included the live original DJ mix and all of the original full length versions in the package. As always this represents a massive saving on original price of these titles but also gives you full confidence that you are getting 100% the original full master quality tracks and mixes from their source. This is the ultimate package of DJ mix and 12″ original classics from complete legends of dance music. Frantic Residents mix albums lovingly recreated in the digital format for all fans of Hard Dance.
The 2nd to be released is Frantic Residents 02: Mixed by Andy Farley and is out now on all good download stores. Featuring hard dance legends BK, Andy Farley, Nick Sentience, Paul Glazby, Vinylgroover and The Red Hed, and more.
This year also sees the release of Frantic Residents 07: Mixed by Proteus & Cally Gage. Breaking from the single DJ mix mould FR07 have given each DJ their own mix to play with for 2 DJ Mixes of the biggest hard dance anthems through the ages. Timed to coincide with Frantic's 13th Birthday celebrations the compilation will feature all of the hottest anthems from the last 13 years of Frantic as well as some killer new exclusives. Release date is TBC. More news will follow soon. Join the mailing list at for upfront release info!
Frantic Residents 02: Mixed by Andy Farley
Tracklist:
1. Let The Games Begin-Ali Wilson & Matt Smallwood
2. Checkmate-Nick Sentience & Andy Farley
3. U Got 2 Know-Cappella (Joy Kitikonti Remix)
4. Wanna Ride-BK
5. Face Facts-BK & Andy Farley
6. Bad Ass-BK (James Lawson Remix)
7. Get Down-Paul Glazby & Paul Janes
8. Curse Of Voodoo Ray-The Edison Factor
9. Revolution-BK
10. Joy Don't Stop-Joy Kitikonti (BK Remix)
11.Your Fear-Andy Farley
12. Move Your Body-Vinylgroover & The Red Hed (Olly Perris & Ashley Sinclair Remix)
13. Ascension-BK & Dave Randall
14. Khemical Imbalance-BK & Andy Farley
15. The Venue-Olly Perris & Ashley Sinclair
16. Motherfucker-Paul Glazby
17. Mosquito's Tweeter-Temperature Drop
Related Posts