Frantic Residents 03 – Steve Hill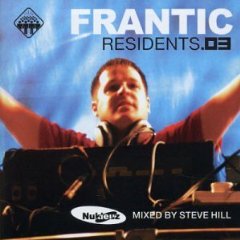 An album which coincided with Frantic's 9th Hard House Academy, Steve Hill took to the decks for the third installment in the Frantic Residents series.
Steve Hill is the New Zealander responsible for firing up the main room and starting the party off with a bang! His charismatic performances have been the stuff of legend making him the king of Hard House Academy.
He also plays regularly at Sundissential, Tidy events and overseas. Steve has performed countless tours of Australia and New Zealand, plus tours of Japan, USA and South Africa, numerous Irish dates and included at festival events such as Dance Valley in Holland and both Tidy Weekenders.

TRACKLISTING – CLICK HERE TO PURCHASE FRANTIC RESIDENTS:03
1) CLIVE KING & SCOTT MARTEN – 'TOTAL CONFUSION (DJ SERGE & REMY MARTINEZ MIX)'
2) DJ MEISTER – 'CAN YOU FEEL IT (STEVE HILL CODE MIX)'
3) JAMES LAWSON & STEVE HILL – 'LOVE IS THE DRUG'
4) MATT WILLIAMS – 'FIXATION (EXREME VIPER MIX)'
5) NEON LIGHTS – 'BULLET IN THE GUN (GUYVER MIX)'
6) STEVE MORLEY – 'REINCARNATIONS (SHARK BOY VS DAVE HOLMES MIX)'
7) STEVE HILL – 'WICKED 2003'
8) ROWLAND & WRIGHT – 'TAKE YOU OUT'
9) ZERO B – 'LOCK UP (EDISON FACTOR MIX)'
10) NICK ROWLAND & DAVE WRIGHT – 'SILVERSPEED (GOD'S CHILD) (PHATT BLOKE & SLIM REMIX)'
11) NEON LIGHTS – 'NOT OVER YET (STEVE HILL MIX)'
12) JON RUNDELL & MATT WILLIAMS – 'CAN YOU TRUST YOURSELF'
13) NICK SENTIENCE & PHIL REYNOLDS – '(instru)MENTAL' (ORIGINAL MIX)
14) BK – 'BAD ASS (JAMES LAWSON REMIX)'
15) MR BISHI – 'I NEED YOUR LOVIN' (LEE PASCH MIX)'
16) PHLASH! feat. STEVE HILL – 'GET A LIFE (FRANTIC THEME) (STEVE BLAKE & PHIL REYNOLDS MIX)'
Related Posts