Frantic Residents NuBreed: Mixed by Kevsey D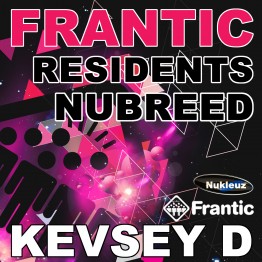 Kevsey D joins the Frantic NuBreed series and brings along the 5th album in the series!
Kevsey D showcases his energetic skills and careful tune selection to the T with this thrilling chapter of the NuBreed series, following on from Frantic Residents Gem Stone, Matt Pickup, Future Resonance and Wayne Smart.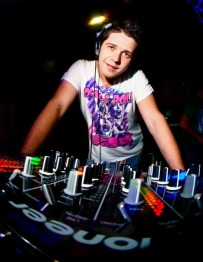 If there's one name that stands out on the London underground scene it would be Kevsey D, He is a young guy that has gone from strength to strength over the past two years. Kev is full of energy behind the decks and you will more then likely find him mixing in with the clubbers when he is not DJing as he likes to party with the best of them.
The beginning of 2008 he won up and coming DJ of the year on harderfaster, Kevsey has played set's all over the country including event's such as Frantic,Tidy, Frantic's HDS,Twist, Hi-oktane, Summit, Reqium, Glow ball, Slinky, Awsum, Vi4gra, Nightshift, Nu-Religion, Sunnyside up, Blast, Warning,Thirsty Thursdays, Primetime, Baklash, Sundaze and Total mayhem.
Kevsey's set's are always full of great energy, in a recent interview he described his sound as "A hard fun ecstatic journey" which is spot on!!
Download from:
iTunes
Track It Down
Beatport
Juno Download
Audiojelly
Frantic and Nukleuz have always prided themselves on not only working with some of the hottest hard dance acts in the world but also of discovering, nurturing and launching the careers of some of the most inspiring new talents in the scene.
This series of Frantic Residents NuBreed albums aims to showcase the incredible crowd pleasing skills of Frantic's current crop of resident DJs. They are rocking dance floors every week with their own blend of tracks and unique mixing styles and include: Gem Stone, Matt Pickup, Future Resonance, Kevsey D, Wayne Smart and Aaron James.
"The music in our scene is more diverse than ever and we are proud to represent its many colours and flavours!"
Tracklist
1) Kevsey D 'Decree Haven'
2) Kevsey D 'Non Stop Rock'
3) Rockin Russ 'Everybody's Doing It'
4) Frank Farrell & Pulse Fiction 'Mad Tarts On Acid'
5) Wayne Smart & Scott Genetik '3 Day Dabble'
6) Future Resonance & Kevsey D 'The Saint'
7) Kevsey D & Future Resonance 'Eternal Blend'
8) Darrell White & Hi Freak 1 c 'Mu5ic'
9) Tony Heron & Frank Farrell 'Three Way Jam'
10) The Edison Factor 'The Cure Of Voodoo Ray'
11) Mark Davis & Matt Morris 'P.T.S.D.'
12) Equinox 'Puma Pocock Remix'
13) Tim Stokes & James Taff 'Ten Men'
14) Future Resonance & Kevsey D 'The Twelve Tribes'
15) Ross Homson 'Mutt Strutt'
16) Tom Parr 'Changes 2010 Rework'
Related Posts