Frantic Residents NuBreed – Mixed by Wayne Smart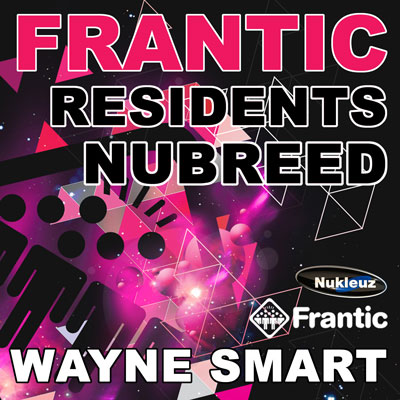 Fourth in the series, Wayne Smart showcase the skills and tune selection that have established him as a Frantic Resident, following up on fellow residents Gem Stone, Matt Pickup and Future Resonance! Check out the mix to find out why Wayne Smart is one of the most in demand talents on the scene.
DJ, Promoter, Producer, Label Manager (Encoded Nrg) and Co Manager (Requiem) Wayne Smart is widely regarded as one of the most promising and versatile up and coming talents to emerge from the harder end of the scene in the last three years. He is better known for the seamless mixing and relentless late sets that he has unleashed on crowds at London's mighty Frantic and at his residencies at Concept and Encoded NRG but is equally at home turning his hand more pumping euphoric hard dance sets when the set time denotes it. He recently came runner up in Harderfaster.net best new DJ category and in a DSI interview was picked out by scene leading lady Lucy Fur as a DJ that would be on her line up for a perfect night of Hard House. His gigs to date include: Frantic, Awsum, Requiem, Concept, Convergence, Glow Ball to name a few.
Download from:
iTunes
Trackitdown
Beatport
Juno Download
Audio Jelly
DJ Tunes
DJ Download
Frantic and Nukleuz have always prided themselves on not only working with some of the hottest hard dance acts in the world but also of discovering, nurturing and launching the careers of some of the most inspiring new talents in the scene.
This series of Frantic Residents NuBreed albums aims to showcase the incredible crowd pleasing skills of Frantic's current crop of resident DJs. They are rocking dance floors every week with their own blend of tracks and unique mixing styles and include: Gem Stone, Matt Pickup, Future Resonance, Kevsey D, Wayne Smart and Aaron James.
"The music in our scene is more diverse than ever and we are proud to represent its many colours and flavours!"
Tracklist
1) Venkman & Jon BW 'Pocket Rocket'
2) Townsend, Smart & Pepper 'Be Right Now'
3) Gary O'Connor 'Devils Hands'
4) Gary O'Connor 'There Is No Other'
5) Encoded 'Three Way'
6) BK 'Tragic – Dave Curtis & Wayne Smart Remix'
7) Trade Baby & Camp Attack 'Music Is Our Lives – Pierce Rooney Remix'
8) Boca Byrne & Gary O'Connor 'Magnaficent'
9) Wizard 'Inspiration'
10) Ben Stevens 'Tell Me Why'
11) John Kerrigan & Frank Farrell 'Bake My Piggy'
12) Leon Allen 'Feel The Music'
13) Ben Stevens & Adam M 'Covonia'
14) Pierce Rooney 'Sinister – "To The Man Like Noel"'
15) Wayne Smart 'Mind Bender'
Related Posts