Hardcore Adrenaline 2011: Mixed by A.B.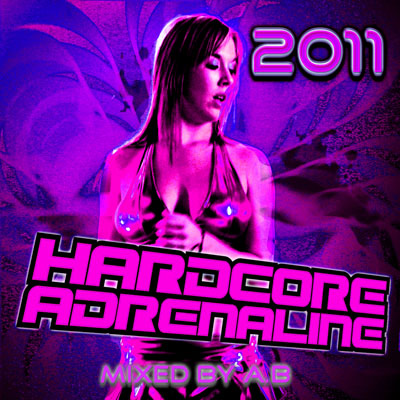 The chart topping Hardcore Adrenaline album series returns for 2011 having initially arrived to critical acclaim and hitting #2 in the Official UK Compilation Chart in 2007 before spawning 2 more similarly successful albums. Mixed by Stu Allan and DJ Seduction the project aimed to showcase the biggest hardcore anthems and club tracks from the biggest artists as well as shining a light on the huge amount of incredibly talented producers and DJs in the scene who rarely got noticed by other albums.
Download from:
iTunes
Trackitdown
Hardbeats Download
Hardcore Adrenaline 2011 takes this mantra further and has initially signed up 3 of the scene's strongest and most under appreciated talents, A.B, Douglas and Endemic. Alex Bailey aka A.B, formerly one of the head honchos at the legendary Nu Energy Collective and now a major player within the newly-formed Hard Beats Collective kicks off the series in fine style with 7 exclusive tracks in the mix.
Track Listing:
1. A.B – OutBurst (Exclusive Hardcore Adrenaline Intro Edit)*
2. Flame, K-Complex & Louise Davies – Allure (A.B's C.O.T Remix)
3. Ibiza Knights – Breathless (A.B's No. 1 Remix)*
4. A.B – BliP
5. A.B – YODJ (Exclusive "In The Place" Edit)*
6. Kevin Energy & A.B – Check This Shit Out
7. A.B – Phoenix*
8. Nick 235 – Close Your Eyes
9. Kevin Energy & A.B – Piranha
10. A.B – Coming Up (SynthWulf Remix)
11. S3RL Vs SynthWulf – Everybody Wants To Be A DJ*
12. Kevin Energy & A.B – F*cking Rockin' It (A.B's Exclusive Ruff As F@*k Mix)*
13. A.B & DJ Laith – That's The Anthem (A.B's Exclusive Big Kick Mix)*
14. Little Fella – Start The Party (A.B's ElectroBoom Edit)
15. S3RL – Dealer (Stylecore Mix)
(*) denotes album exclusive tracks
A.B – Biography
A.B – one of the former Nu Energy Collective's (NEC) key in-house artists and now a major player in the newly-formed Hard Beats Collective. Having firmly stamped his sound onto the Hardcore scene throughout 2010, he is now tipped by his peers to become one of the major underground driving forces throughout 2011, due to both his versatility in the studio and creativity behind the decks.
As the label-manager and second in command to Kevin Energy at NEC HQ right up until the final 100th release, A.B is now pioneering his own ground-breaking imprint – Stamina Records – into the world of Hardcore & Freeform. And with artists such as Douglas, Arkitech, Solution & Nick 235, Endemic, and more already supplying hit music for Stamina, the future of this young imprint is looking very prosperous indeed.
In the DJ department A.B also continues to push the boundaries, entertaining crowds with his insane douple-drop mixing, quick-fire scratching and unparalleled track selection, at legendary events such as Freeformation, to legend-in-the-making raves like MUNTED! and with plenty in-between. Plus with DJ mixes on 3 of 2011's biggest albums – Nu Energy 100, Hardcore Underground 5 & Hardcore Adrenaline 2011 – plus a host of new productions and remixes already under his belt this year, you can expect his rapid-style mixes and scratching to hit a club near you soon.
Weblinks:
http://www.facebook.com/The.Original.A.B
http://www.stamina-records.co.uk
http://www.hardbeatsdownload.com/
http://www.facebook.com/hardbeatscollective
Related Posts