Hardcore Adrenaline 2011: Mixed by Eufeion & Hoodzie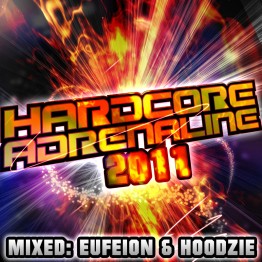 The chart topping Hardcore Adrenaline album series returns for 2011 having initially arrived to critical acclaim and hitting #2 in the Official UK Compilation Chart in 2007 before spawning 2 more similarly successful albums. Mixed by Stu Allan and DJ Seduction the project aimed to showcase the biggest hardcore anthems and club tracks from the biggest artists as well as shining a light on the huge amount of incredibly talented producers and DJs in the scene who rarely got noticed by other albums.
Hardcore Adrenaline 2011 takes this mantra further and has signed up 2 of the scene's strongest and most under appreciated talents, Eufeion and Hoodzie. 31 tracks and 2 full DJ mixes fill this jam packed double album resulting in a devastating showcase of talent. Featuring exclusive remixes of classics like Visa 'Rock Your Body', Visa 'Fly Away' and Darwin & Alison Wade 'Tonight', upfront club tracks and some of the biggest anthems rocking their sets.
Download from:
iTunes
Trackitdown
Hard Beats
Beatport
Juno Download
Tracklist:
1 Eufeion – Unleash The Wolves
2 Breeze & Styles – Sonic 2010
3 Visa – Fly Away (Eufeion Hardcore mix)
4 Scout & Willow – Brush Ya Teeth
5 Eufeion & Re-Tox – Euphoric Stars
6 Breeze & Styles – Electric 2010
7 Eufeion & Epic – Shut Up & Stay
8 Buzzman & Sparkle – Justadream
9 Visa – Rock Your Body (Eufeion Hardcore mix)
10 Breeze & UFO – Dirty
11 Breeze & Styles – Thug Boy (Flyin & Sparky remix)
12 Eufeion – Dirty Dancefloor
13 Breeze & Kevin Energy – The Pendulum Of Bass
14 Petruccio – Vortex
15 Eufeion & Miss-Defy – Power Of The Pharaoh
16 Various – Hardcore Adrenaline 2011 (continuous DJ mix by Eufeion)
17 Various Artists – Intro
18 Breeze & Styles – Chemical Love (Hoodzie remix)
19 Hoodzie – Wasting Your Time (feat Taya)
20 Hoodzie – Rescue Me (feat Taya)
21 Mike Modulate – Again
22 Hoodzie – Dirty Filthy
23 Modulate & Petruccio – F@%k It Up (feat Marie Louise)
24 Darwin & Alison Wade – Tonight (Hoodzie remix)
25 Hoodzie – Our Time
26 Breeze V Unique – Reach Out (Petruccio & Modulate remix)
27 Michael Scout – All This I Know (feat Steve MC Nally)
28 Audiojunkie & Stylus – Free (feat Rachael – Hoodzie remix)
29 Hoodzie – Shine (feat Taya)
30 Breeze V Unique – Sometimes
31 Hoodzie – Cheeky
32 Bubble – Standing There
33 Various – Hardcore Adrenaline 2011 (continuous DJ mix by Hoodzie)
Related Posts