Hardcore Anthems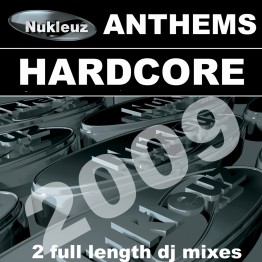 Pioneering internationally renowned dance label Nukleuz saw its 11th birthday this year and is going from strength to strength combining new raw talent with established scene leaders and cleverly remixing of some of their immense back catalogue. Nukleuz has been the home of some of the World's greatest and most respected hardcore stars including Breeze & Styles, Hixxy, Stu Allan, DJ Seduction, Dougal & Gammer, Visa, Sy & Unknown and more! In recent times Nukleuz has been striving to build up new artists Joey Riot, Barley, Orbit1, Darwin, Fracus & JAKAZiD.
After becoming the biggest selling hardcore album in over 6 years in March 2005 "Hardcore Nation" went on to sell in excess of 200,000 units across 4 titles released through Warners mixed by Stu Allan, DJ Seduction & Robbie Long. Nukleuz followed this up by unleashing 3 successful "Hardcore Adrenaline" albums through Gut records in 2007 selling 150,000+ units mixed by Stu Allan, DJ Seduction & Bonus Bootleg Mix and kicked off the series by hitting # 2 in the UK Compilation Chart with volume 1! In late December 2008 Nukleuz Records team up with legendary dance label Positiva to create their biggest album to date "Hardcore Nation 2009" mixed by Stu Allan, Joey Riot & featuring a Bonus Bootleg Mix.
Now for 2009 the team unleash all the biggest tunes in their arsenal which earned them the titles Music Week Label of the Year and the UK's # 1 Vinyl label for 3 years in a row, as well as having the last ever vinyl only Top 40! These 2 exclusive DJ mixes Nukleuz prove why they have spent 11 years at the top!
Tracklist
CD1
1) 4 Rising Stars 'Feelin' Me (Breeze & Styles Mix)'
2) Angel Eyez 'Twilight (Deejay Bee & In Effect Remix)'
3) Darren Styles & Mark Breeze Present Infextious 'Let Me Fly (Jamie Ritman)'
4) Darren Styles & Mark Breeze Pres. Futureworld 'Chemical Love (Jamie Ritmen)'
5) DJ Destiny 'What's Up? (Dougal & Gammer Hardcore Remix)'
6) Visa 'Fly Away (Hixxy Mix)'
7) Audioscape 'Walk Away (Breeze & Styles Hardcore remix)'
8) Nukleuz Kollective Presents Cortina 'Music Is Moving (Gammer Remix)'
9) Love Assassins 'Teardrops (Sy & Unknown Remix)'
10) Stu Allan 'A Feeling (DJ Seduction Remix)'
CD2
1) JAKAZiD Ft. Barry Scott 'Cillit Bang (Original Mix)'
2) Praga Khan 'Injected With A Poison (Hixxy's HTID Mix)'
3) CRW 'I Feel Love (Breeze & Styles Remix)'
4) Fonzerelli 'Infinity – JAKAZiD Dub'
5) Cappella 'U Got 2 Let The Music (K-Complex, Voycey & Douglas Remix)'
6) Cappella 'U Got 2 Know (Spenno, Dizzy & Sparky Remix)'
7) Visa 'All I Need (Visa Mix)'
8) Visa 'Let Me See Ya Move (Sy & Unknown Remix)'
9) Fergie & BK 'Hoovers & Horns (Robbie Long & Stormtrooper Remix)'
10) Cally & Juice 'All You Bastards (Robbie Long & Stormtrooper Remix)'