Hardcore Nation – Next Generation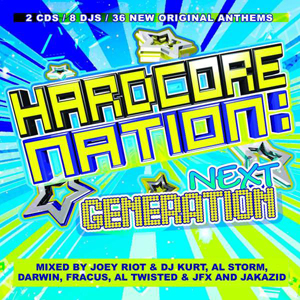 Young guns sparring with all the pomp of prospective world champions! These guys are driving to be the biggest, the best and the hardest of the hardcore DJs in the UK. They maybe the next generation but in terms of skills they're actually hot hot hot.
Nukleuz Records has called upon the hottest DJs and producers of the hardcore scene right now, Joey Riot, DJ Kurt, Al Storm, Al Twisted & DJ JFX, Darwin, Fracus and JAKAZiD, to compile and mix this jam packed, double CD, resulting in 36 of the freshest hardcore tunes currently tearing up dancefloors nationwide.
Following on from the phenomenal success of the previous 4 Hardcore Nation albums (Hardcore Nation 1,2,3 and Hardcore Nation: Classics), this latest addition to the series digs deeper into the underground that showcases the biggest, loudest, fastest sounds of the future of Hardcore. As well as showcasing their DJ skills on Hardcore Nation: Next Generation, these talented DJs and producers also treat our ears to their own exciting new productions, most of which are exclusive this album.
Pure passion has gone into this album…each DJ has carefully selected each tune, "Pick a favorite track"… Al Twisted. "That's a tough one as they are all belters. I would have to say Kurt's UK Gabber track "Straight from the Underground", its pretty damn awesome"
Track Listing:
CD1 – MIXED BY JOEY RIOT & DJ KURT, AL STORM, AL TWISTED & DJ JFX
1: DJ Kurt – "World Domination" (Exclusive Mix)
2: DJ Kurt – "Electron"
3: DJ Kurt – "Don't Hold Ya Breath" (Lethal Vocal Mix)
4: Joey Riot – "Holdin On"
5: Joey Riot & Cat Knight – "Only You"
6: Joey Riot feat. Kelly C – "The Power Within"
7: Heaven 7 vs Al Storm – "You're The Feelin'" (Exclusive HN Mix)
8: Al Storm – "Clappin' Your Hands"
9: Al Storm feat. Ali – "Swept Away"
10: Impact & Orbit1 feat. Lisa A – "I Still Believe"
11: Alistair Storm – "World Of Darkness"
12: Al Storm – "Drive Me Crazy"
13: Ruboy vs Tampo & K-Rlos – "La Niña Mechanica"
14: Organ Donors – "Blackout" (DeejayBee & Diverse Remix)
15: Al Twisted & DJ JFX feat. Vicky Fee – "Turn It Up"
16: Al Twisted & DJ JFX – "Underground Supply"
17: DJ Kurt – "Straight From The Underground"
18: Al Twisted & Rob Da Rhythm – "Beat On The Drumz" (2008)
CD2 – MIXED BY DARWIN, FRACUS & JAKAZiD
1: Fracus & Donna – "See If I Care"
2: Marc Smith – "Can You Feel It" (Exclusive Hardcore Nation Edit)
3: Chaos feat. Scarlet – "Perfection"
4: Cube::Hard – "Smoke Signals"
5: Deeper Territory – "Calm Me Down"
6: SMS – "Another Night" (Breakz Edit)
7: Fracus & Orbit 1 feat. Lisa A – "In Your Arms" (Orbit1 2008 Remix)
8: Phenex feat. Le Kat – "So Naive"
9: Darwin, In Effect & Buzzy feat. Fraz – "Don't Say Goodbye"
10: Cynix feat. Kelly C – "Hold on Tight" (Reese Remix)
11: JAKAZiD – "Give Love A Chance"
12: Brain Blessed feat. Kelly Southall – "Epiphany" (Ponder Remix)
13: Shanty, Tazz & Devastate – "DDR" (A.M.S. Remix)
14: Chwhynny & Darwin – "Nothing There"
15: Nu Foundation – "Want Your Love"
16: JAKAZiD feat. Andy L – "Mystify Me"
17: Fracus & Mozz feat. Vicky Fee – "Hold on To Me" (Fracus Remix)
18: Darwin & Toni Leo – "Come on Out"
Download from iTunes
Download from Trackitdown
Download from Juno
Download from DJ Download
Download from Amazon
Download Part 1 from Beatport
Download Part 2 from Beatport
Related Posts