Ibiza Trance Anthems 2008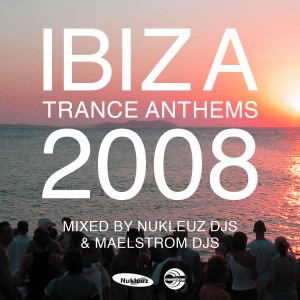 Ibiza Trance Anthems 2008
Mixed by Nukleuz DJs & Maelstrom DJs
CLICK HERE TO BUY IBIZA TRANCE ANTHEMS 2008
After the massive # 1 (UK & USA) iTunes success of last year's Ibiza Trance Anthems 2007, the mighty Nukleuz and Maelstrom join forces once again to provide an essential collection of White Isle inspired beats.
Famed for being the biggest selling 12" label in the world for 3 years running to launching the careers of Fergie and BK to name a couple, Nukleuz are renowned for putting out meaty slabs of techno, trance, hard house and hardcore. Their mix includes tunes by king of hard beats Mauro Picotto (Ibiza Angel & all time classic Komodo), the Ferry Corsten championed 'DJs Take Control', the Paul Van Dyk & Carl Cox hammered Andy BopH 'Rat Trap', plus heavy hitters from Fonzerelli, DJ Choose, P.H.A.T.T, Pierre Pienaar and Judge Jules favourite Will Atkinson.
Set up at the beginning of 2001, Maelstrom focuses on artists and tracks from the techier end of trance and house, providing quality releases over the years from international talent such as Oakenfold, Chris Lake, Oliver Klein, Lange, Parker & Hanson and Tiësto. Starting their mix with this year's massive summer collaboration from Blank & Jones ft. Bernard Sumner (Miracle Cure) other tracks come from the likes of trance legend's Pulser (Sunseeker) and Lange (Out Of The Sky) also Russia's no.1 dance music favourite Bobina (Invisible Touch).
Ibiza Trance Anthems 2008 – CD1 Mixed by Nukleuz DJs
1) Andy BopH – Rat Trap (Melodia Remix)
2) Rachel Loy – Big Sky (Pierre Pienaar Mix)
3) Melodia – Motion Theory (North Star Remix)
4) Pierre Pienaar – Ibiza Sunset (Steve Allen & Ben Alonzi Dub)
5) Connected ft Max'C – A Feeling (Will Atkinson Darker Dub)
6) Mauro Picotto – Ibiza Angel (Rex Mundi Remix)
7) DJ Choose & Michael Splint – DJs Take Control (DJ Choose Remix)
P.H.A.T.T. – Damage Control (S.H.O.K.K. Remix)
9) Fonzerelli – Spirit (Wanna Stay Here Forever) [Pierre Pienaar Remix]
10) Mauro Picotto – Komodo (P.H.A.T.T. Remix)
Ibiza Trance Anthems 2008 – CD1 Mixed by Maelstrom DJs
1) Blank + Jones with Bernard Sumner – Miracle Cure
(Glenn Morrison & Byron Wong Remix)
2) 4 Strings – Catch A Fall (First State Another Sound Remix)
3) Pulser – Sunseeker
4) Parker & Hanson – Aim High, Shoot Low (Vocal Mix)
5) Lange feat. Sarah Howells – Out Of The Sky (Kyau & Albert Rmx)
6) Gareth Wyn – Beat That
7) Oakenfold ft. Ryan Tedder of OneRepublic – Not Over (Adam White Rmx)
Bobina – Invisible Touch
9) Ariel – A9 (Paul Morrell's Classique Remix)
10) Richard Durrand – Weep (Club Mix)
Related Posts