Ibiza Trance Anthems 2009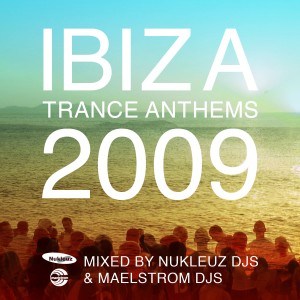 Ibiza Trance Anthems 2009
Mixed by Nukleuz & Maelstrom DJs
CLICK HERE TO DOWNLOAD FROM iTUNES
Released for the third consecutive year, Ibiza Trance Anthems is back, and better than ever for 2009.
Nukleuz and Maelstrom DJs team up once again to mix the hottest records that are blowing up on the White Isle. Packed with exclusives, and future hits from the biggest names in the scene: Paul van Dyk, Fonzerelli, Melodia, The Dubguru, Ferry Corsten, and many more, this an essential album for all trance fans and DJs.
With 20 full-length Ibiza club cuts and 2 top DJ mixes, all for just £7.99, if you make one trance purchase this summer, make sure it's Ibiza Trance Anthems 2009.
Ibiza Trance Anthems 2009
01. Pierre Pienaar feat. Marcie – If You're Not Here (Jason Van Wyk's Drifting Mix)
02. TFT – Closed Thoughts
03. Fonzerelli – Dreamin (P.H.A.T.T. Remix)
04. JamX – Liebe (JamX & Daniel Kay "D" Mix)
05. Chris MiMo – Airstrike (Melodia Mix)
06. Ibiza Knights – Breathless (Melodia Remix)
07. Identikal & Adriz – Reality
08. DJ Choose – Stranger Danger (Part 1)
09. P.H.A.T.T. – Amsterdam (DJ Choose Remix)
10 .Organ Donors – 4 Tribes (Wanna Be Startin' Somethin') [Will Atkinson's Under The Knife Remix]
11. IbizaTrance Anthems 2009 (Nukleuz DJ Mix)
12. Dance Nation vs Shaun Baker – Sunshine 2009 (Club Mix)
13. Paul van Dyk – For An Angel (Dave Darell Remix)
14. Marco V feat. Khashassi – Solitary Confinement (San Remix)
15. UnClubbed – Let The Music Play (with Laura Vane) [Vegas Baby Mix]
16. Ruff Driverz Presents Arrola – Dreaming (Beltek Remix)
17. Cosmic Gate feat. Kyler England – Flatline (Kyau & Albert Remix)
18. The Dubguru – U Got 2 Know (Carlos Extended Remix)
19. Gareth Wyn – Mozaik
20. Judge Jules – Could Be Love (with Headstrong] [Paul Morrell Remix]
21. Bobina – Invisible Touch (Ferry Corsten's Touch)
22. Ibiza Trance Anthems 2009 (Maelstrom DJ Mix)
Related Posts