Miami Trance Anthems 2009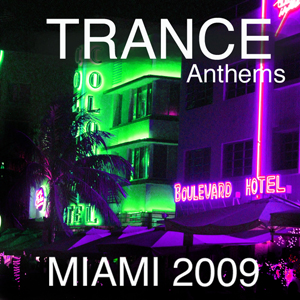 To celebrate the 2009 Winter Music Conference WMC, Nukleuz presented their yearly Miami mix made up of 2 CDs containing 20 of their hottest upfront tracks on one album. Massive anthems and mixes from BK, Pierre Pienaar, P.H.A.T.T., Melodia, JamX, S.H.O.K.K, Will Atkinson and DJ Choose.
CD 1 contains some of Pierre Pienaar's finest work in 'Ibiza Sunset', 'First Flight' and 'Titan', as well as remixes of Will Atkinson's 'Perpetual Sunrise', and his take on Chris MiMo's anthem, 'Scorcher'. The first mix also contains Daniel Loubscher and Adam Ellis' forthcoming 'Perception' and Daniel's remix of Filthy Louca's house hit, 'Believe In Me'. The legend that is S.H.O.K.K also features with the Mat Silver Remix of 'Renaissance' alongside the Trance mix of Ibiza Knights, 'Breathless'
CD2 also features tracks from some dance legends in JamX's 'Liebe' and the Lee Haslam remix of BK's classic anthem, 'Revolution' (reworked for 2009). On top of this Pierre Pienaar's harder P.H.A.T.T alias appears three times along with more from Daniel Loubscher, Fonzerelli, Bas & Ram Vs Ralph Novell and DJ Choose.
Track Listing:
1) Pierre Pienaar – Ibiza Sunset
2) Daniel Loubscher & Adam Ellis – Perception
3) Will Atkinson – Perpetual Sunrise (Pierre Pienaar Remix)
4) Melodia – Motion Theory (Boy Hagemann Remix)
5) Ibiza Knights – Breathless (Trance Mix)
6) S.H.O.K.K. – Renaissance (Mat Silver Sunday Morning Remix)
7) Chris MiMo – Scorcher (Pierre Pienaar Remix)
8) Filthy Louca – Believe In Me (Daniel Loubscher Dub)
9) Nukleuz DJs – Miami Trance Anthems 2009 Mix 1 (Mixed by Nukleuz DJs)
10) Daniel Loubscher – Full Throttle
11) Fonzerelli – Losing You (Melodia Remix)
12) PHATT – Worlds Apart (feat Kate Smith – Will Atkinson Remix)
13) JamX – Liebe (Nick Larson Mix)
14) BK – Revolution (Lee Haslam Remix)
15) Melodia – Phoenix (Will Atkinson Remix)
16) Bas & Ram Vs Ralph Novell – Younique (DJ Choose Mix)
17) PHATT – Amsterdam
18) PHATT – Mass Destruction
19) Nukleuz DJs – Miami Trance Anthems 2009 Mix 2 (Mixed by Nukleuz DJs)