Nukleuz In Canada – Part 2: Mixed by Aaron Olson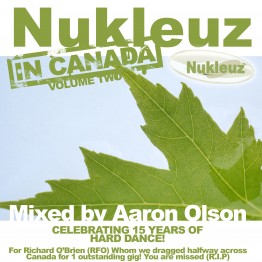 Canada has always been an important territory for the music of Nukleuz Records and when one of the Canadian scene's brightest new stars approached us about creating a dual album project that represents the strongest material from the label with some of Aaron Olson's own material and a couple of cuts from his favourite labels we jumped at the chance.
Volume 2 builds on the trance and tech trance from Vol 1 and picks up the tempo to showcase Aaron's selection of the hottest hard house and hard trance that has been rocking his sets since the beginning. As with Vol 1 the mix itself dynamic, exciting and full of energy at all times with no time wasted on not rocking the dancefloor! Proving why Aaron Olson is such a hot talent to look out for.

CONTAINS TWO NEVER BEFORE DIGITALLY RELEASED TRACKS
Starting out in 1998 Aaron Olson always had a knack for destroying dance floors. With humble beginnings playing trance and techno, Aaron quickly moved on to Hard Dance after the big Nukleuz bump in 99. Aaron spent most of the next few years jetting around Canada playing clubs and raves alike, eventually settling back down in Saskatoon and concentrating on production.
Aaron Olson's productions have seen support by the likes of Flatland Funk, Scot Project, Luca Antolini, Kutski, Scott Attrill, Anne Savage, BK, Lisa Lashes, Alex Kidd, Kamui, Organ Donors, Andy Farley, JP & Jukesy, K-90 & more! And has had releases on leading labels like Kung Fu Wax, Tech Fu, Traffic, Nukleuz and Riot!
Scott Attrill: "Aaron Olson is one to watch, tracks such as 'Equilibrium' set him apart from others, if this continues, 2011 will be a year where he could really make his mark."
Nick Sentience: "Good Work…Good tunage!"
Sander Kleinenberg: "…heard a clip of this on a radio station, I freaked out…LOVE IT!"
Rodi Style: "Loving the Aaron Olson material, definitely a soon to be major player in our scene and I've been supporting his tracks in my radio show and sets for some time now!"
www.aaronolson.net
www.facebook.com/djaaronolson
www.soundcloud.com/aaron_olson
www.youtube.ca/djaaronolson
DOWNLOAD FROM: iTunes, Trackitdown, Juno
Coming soon to Beatport…
NUKLEUZ IN CANADA Vol 2:
Mixed By: Aaron Olson
Tracklisting:-
01. Harry Diamond & Project Mayham – Carnival
02. Aaron Olson – Meu Brasil
03. BK – Stay High
04. Nick Sentience & Mark Tyler – Amplify
05. Nick Sentience – Freedom
06. Lisa Pin Up – Baddest Mutha (BK & Nick Sentience Remix)
07. Anne Savage & James Lawson – The Hoffman Experience
08. BK – Bad Ass (James Lawson Remix)
09. BK – Bad Ass (3am at Convergence Mix)
10. BK – (Let the) Rhythm Move You (4am at Frantic Mix)
11. The 49er's – I Got the Music (BK & dBm Remix)
12. BK & dBm – Through The Night
13. BK – Don't Give Up
14. Ed Real & Todd Tobias – Desert Storm
15. R.F.O. – Rock Ya Body
16. Mauro Picotto – Iguana (BK & Nick Sentience Remix)
17. Andy Farley – Bring it Back (Paul Clarke & M. Ramone Remix)
18. Aaron Olson – Revolution of Dancing
19. James Lawson & Steve Hill – Love is the Drug
20. Vinylgroover & the Red Hed – Kokane (Ashley Sinclair & Olly Perris Remix)
21. Vinylgroover & the Red Hed – Move Your Body (Ashley Sinclair & Olly Perris Remix)
22. BK & Rob Tissera – Zulu Nation
23. Vinylgroover & the Red Hed – Everlasting (Edison Factor Remix)
24. Jobabe – Getting Hot (Rowland & Wright Remix)
25. Nick Sentience – (Instru) Mental
26. Nick Sentience & Phil Reynolds – Back 2 Front
Related Posts