Nukleuz presents Hardstyle Vol.1 – Out Now on All Stores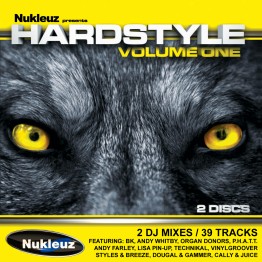 This weeks see's the full digital release of Nukleuz presents Hardstyle Vol.1 on all good download stores – 2 DJ Mixes and 39 tracks featuring killer classic cuts & club anthems by scene leading UK & international resident DJs Andy Whitby, Darren Styles, Mark Breeze, Andy Farley, Bad Behaviour, Lisa Pin-Up, Organ Donors, BK, Outsource DJs, Vinylgroover, Scott Attrill, Technikal, Bass Slammers (Ministry Of Sound Tour DJs), Cally & Juice, Dougal & Gammer, JamX, S.H.O.K.K. and P.H.A.T.T.
Formed in 2002 for the DJ Nation series, Nukleuz DJs represented the cream of emerging hard dance talent on Nukleuz. Now for 2010 Nukleuz DJs do what they do best unleashing a DJ Mixed double CD album covering the full spectrum of harder dance including 39 of the hottest hard dance, bounce, hard trance, NRG and hardstyle tracks around. These international sounds have had a renaissance over the past 6 months growing from their core home territories of UK, The Netherlands, Germany and Australia to encompass the globe especially the USA where Hardstyle is fast becoming the most popular and fastest growing rave scene of 2010.
Due to be released as a 2 x CD physical album on leading South African label F! Records, home to SA's biggest selling dance compilation "Bump" and worldwide as a full digital release of 2 DJ Mixes and 39 individual downloads on the internationally respected Nukleuz Records
Buy online now from:
Trackitdown
Amazon MP3
iTunes
Audiojelly
Juno Download
DJTunes
Dance Music Hub
Beatport
Napster
Related Posts