Nukleuz Trance Sessions Vol.1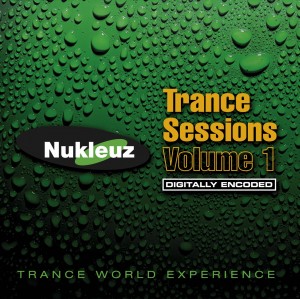 Nukleuz Records, the UK's #1 vinyl label in 2001, '02 & '03 has been a leader of European techno / trance for years and have a great history in the scene and are responsible for some of the biggest trance records around. This single CD compilation draws upon the best of their world renowned home grown and international trance, mixing club classics, current anthems and exclusive forthcoming releases. Uplifting tunes, throbbing bass & driving drums on a non stop 78 minute mix made in trance heaven.
Mixed in house at Nukleuz studios by a non-featured DJ Nukleuz are keeping the focus on the label and the high quality & variety of music that it releases.
Bombay 'Live Forever' (PPD's Club Mix) is completely exclusive to this album and cannot be heard anywhere else and is not even pressed or scheduled for Nukleuz release! Similarly Triple M "Sex" (PPD Remix) is being used on a compilation for the first time making this exclusive to the album! PPD have been spotted by Nukleuz for their production talents and are due to remix a lot more tracks on the label so watch this space!
1.SIMON FOY 'INSIDE OUT' (FREEFALL MIX)
2.JOY KITIKONTI 'JOYENERGIZER 2005'
3.TODD TOBIAS 'UNDER ONE' (JK WALKER RMX)
4.DJ ENERGY 'SERENITY' (CLUB MIX)
5.NICK LUNN & YOMC PRES TECHNO PUNK 'ENERGIZE'
6.ORGAN DONORS 'MENTAL ATMOSPHERE' (JK WALKER RMX)
7.VINYLGROOVER & THE RED HED 'EVERLASTING' (MIDNIGHT MIX)
8. 4 RISING STARS 'FEELIN' ME' (PHYNN MIX)
9.ALUNA 'ALL OF MY LIFE' (AIRPANEL MIX)
10.BOMBAY 'LIVE FOREVER' (PPD CLUB MIX)
11.X-CABS VS RIDDLER & HEADCRUSHER 'NEURO 2004'
12.TRIPLE M 'SEX' (PPD RMX)
13.ELEMENTAL 'REACH OUT' (TECHNIKAL MIX)
14.GREG BROOKMAN 'FREE FLOW'
15.ALPHAZONE 'REVELATION'
16.GUFFY & GREG BROOKMAN 'BRING THE FUNK'
Related Posts