Nukleuz In Holland: Part 1 – Mixed By Rene Ablaze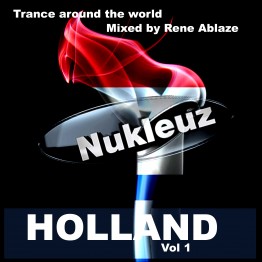 Holland has always been an important territory for the music of Nukleuz Records and many of our artists have a huge influence there. With tracks from the likes of Tiesto, Mauro Picotto, Pierre Pienaar, CRW, Con Phillips, DJ Choose, Jason Van Wyk, Javah and mixing the album, Rene Ablaze, this release continues the Nukleuz In Canada theme adopted for the Aaron Olson mixed album.
Friend of the label Rene Ablaze has created one half of a dual album project that represents the strongest material from the label and the territory with some of Rene's own material and a few cuts from his own label Redux Recordings.
Volume 1 showcases Rene's selection of the hottest trance and tech trance that has been rocking his sets alongside some all time classics to add that extra flourish. Volume 2, mixed by Vincent De Jager, will be released shortly after. Be sure to check back with the Nukleuz official website for more information.
Download Here:
iTunes
Beatport
Juno Download
Trackitdown
Tracklist:
1. Broken Promises (Original Mix) Marcie, Setrise, EBM (Nukleuz)
2. CRW – I Feel Love (JamX and The Leon Remix) (Nukleuz)
3. Canvas (Original Mix) Michael Gallagher (Nukleuz)
4. Alexander Xendzov feat. Julie-Anne Melfi – Set You Fee (Rene Ablaze Remix
(redux Rec.)
5. P.H.A.T.T. – Kanashi (Original Mix) (Nukleuz
6. Con Phillips – Vector (Nukleuz)
7.Reality – Rene Ablaze (Dima Krasnik Vocal Mix) (Nukleuz)
8. ASD (Original Mix) DJ Choose, Fredin (Nukleuz)
9. The Way (Clarks & Setrise Remix) Melodia (Nukleuz)
10. Out Of Sight (Original Mix) Jason Van Wyk, North Star (Nukleuz)
11. Perpetual Sunrise (Pierre Pienaar Remix) Will Atkinson (Nukleuz)
12. Javah ft. Indian Princess – Look Don´t Touch (Nukleuz)
13. Javah ft. Stacey – You And Me (Damien S Remix) (Nukleuz)
14. Rene Ablaze & Emdee – Hello World (Nukleuz)
14. Aura ft. Danielle Senior – Every Emotion (Carlos Remix) (Redux Rec.)
15. Noel Gitman ft. Buran B – FooDoora (Taras Bazeev & Maxim Yurin Remix)
(Redux Rec.)
16. Kyota – Nemo (B-Vibes Remix) (Redux Red Rec.)
17. Dereck Recay – Dream Way (Faruk Sabanci & Nurettin Collak Remix) (Redux
Rec.)
18. Rene Ablaze ft. Avalona – United To The World (Dima Krasnik Tech Remix)
(Redux Rec.)
19. Rene Ablaze & Melle Bakker – Sunrise Confessions (Lost Stories Remix) (Redux
Rec.)
20. Ralph Novell – Odyssey (Connective Sounds/Redux Rec.)
21. Stuart McNiven ft. Sharon Fehlberg – Surrender (Ian Solano Remix) (Connective
Sounds / Redux Rec.)
22. Energize (Paul Van Dyk Remix) Nick Lunn, Yomc,(Nukleuz)
23. I Surrender (Original Mix) Sphere, Pulse (Nukleuz)
24. Mauro Picotto – Pulsar (Tiesto Remix) (Nukleuz)
25. Pierre Pienaar – Breeze (Javah Remix) (Nukleuz)
Biography:
Rene Ablaze (real name Rene Bos) was born in the Netherlands and quickly found his calling in the Trance and Progressive scene picking up residencies at the Innovation Raves at Fantasy (Germany) and the legendary Hexenhouse Parties in the town Bocholt (Germany). Today Rene plays all over the world at some of the best parties across the globe.
Undoubtedly some of Rene's biggest successes are the tracks "Back On Plastique" (X-it-Records) which entered the DDC charts, and the hit song with the twittering birds, "Balearic Desire" (Combined Forces) which smashed into the Dutch Dance Charts and was played by scene leading DJs like Armin van Buuren, Tiesto & many more.
Alongside production, writing and DJing Rene runs his own company ABLAZE PRODUCTIONS and his own record label REDUX RECORDINGS which is growing from strength to strength with each release. To add to all this Rene has recently found himself remixing for the likes of DJ Tiesto and releasing on some of the hottest trance labels around including Combined Forces, Illuminate-Drizzly, Phoenix-Joyride Music, Spinnin and Nukleuz.
Related Posts