Nukleuz In South Africa: Part 2 – Mixed by Dirkie Coetzee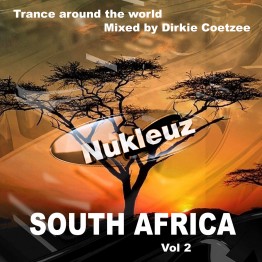 South Africa has always been an important territory for the music of Nukleuz Records largely due to the influence of artists we have worked with there including the likes of Pierre Pienaar and Dirkie Coetzee.
Continuing the Nukleuz In Canada theme adopted for the Aaron Olson mixed album, new label favourite Dirkie Coetzee has created one half of a dual album project that represents the strongest material from the label and the territory with some of Dirkie's own material and a couple of cuts from his favourite labels.
Volume 2 showcases Dirkie's selection of the hottest trance and tech trance that has been rocking his sets alongside some all time classics to add that extra flourish. The mix itself is dynamic, exciting and full of energy at all times with no time wasted on not rocking the dancefloor! Proving why Dirkie Coetzee is such a hot talent to look out for.
With exclusive tracks from Bonzai / Subtraxx and Nukleuz on this release, including huge releases from the likes of Clarks, T.O.M. & Alphaforce, Ville Lope, Pierre Pienaar, Horizon and Dirkie Coetzee himself.
Download Here:
iTunes
Beatport
Juno Download
Trackitdown
Tracklist:
1] Tom Fall_First Sight_Original Mix (Subtraxx)
2] Clarks_Senza Fine_Original Mix (Nukleuz)
3] Iga Khob_Everything In Time_Original Mix (Nukleuz)
4] TOM_Alpha Force_Paradice_Sovt Progressive Remix (Nukleuz)
5] Ville Lope_The Day Before Tomorrow_Original Mix (Subtraxx)
6] Clarks_Forgotten Emotions_Original Mix (Nukleuz)
7] PHATT_Isis_Melodia Remix (Nukleuz)
8] Dirkie Coetzee ft Emma Lock_Never Looking Back_Original Mix (Subtraxx)
9] Arran Lee_Find Me_Original Mix (Subtraxx)
10] Dirkie Coetzee & Unique DJ feat. Litsa_C'est La Vie_Sourcee Remix (Subtraxx)
11] Dirkie Coetzee_Dreaming of Ibiza_Club Mix (Nukleuz)
12] Dirkie Coetzee, Neo Kekkonen and Marcia Juell_Live Again_Original Mix (Subtraxx)
13] Horizon_I Dont Wanna_Lost Witness Mix (Nukleuz)
14] Nervous Testpilot_Five Years In Singapore_Original Mix (Subtraxx)
15] Ayleon_India_Original Mix (Subtraxx)
16] Neo Kekkonen_Alpha Centre_Original Mix (Subtraxx)
17] Fortuna_Casus_White Russain_Original Mix (Nukleuz)
18] Michael Gallagher_Canvas_Original Mix (Nukleuz)
19] Continuous DJ mix by Dirkie Coetzee
Biography:
Dirkie Coetzee started his career in the EDM scene as a bedroom DJ way back at the tender age of 16. After spending numerous years perfecting his mixing skills he quickly started to feature in night clubs, events and radio stations around Southern Africa. It was in this time that Dirkie started to gain interest in the art of music production. "I used to be a DJ, but thanks to the wonderful world of music production I can now create the music I want to play." Without any formal training in music theory, rhythms, chord progressions, sound synthesis or music production in general, Dirkie set out to learn this fine art by scouring any available articles and tutorials available on the internet. With many years of trial and error Dirkie slowly refined his skills as a music producer to create the sounds you hear in his music today. "It's hard to stay motivated when you feel like you are not achieving anything with your music, but passion for music always dies a slow death and quitting is never an option for me." It's this passion for music and trance music production in particular that has helped Dirkie to get his music signed to some of the best labels in the business. 2011 is the year Dirkie Coetzee focused all his energy and time on producing Vocal Trance. His debut Vocal Trance production "Never Looking Back" with world renowned singer and songwriter Emma Lock has given Dirkie a solid platform to showcase his ability to craft this powerful genre of music. American artist Marcia Juell is another one of the world's leading Trance Vocalists that has worked on collaborations with the rapidly rising producer from South Africa.
Related Posts