Trance: Ibiza Anthems 2010 Album!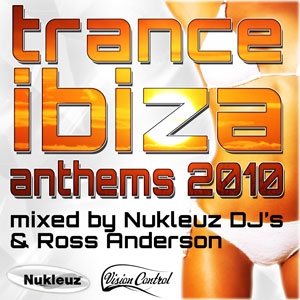 TRANCE: IBIZA ANTHEMS 2010 – MIXED BY NUKLEUZ DJS & ROSS ANDERSON
[NUKLEUZ VS VISION CONTROL]
To celebrate the closing of another exciting and memorable Ibiza season Nukleuz and Vision Control Digital have gone head to head to showcase their finest trance battle weapons that have been rocking the floors this summer across 2 DJ mixes, mixed and selected by Ross Anderson and Nukleuz DJs. Featuring the talents of Ben Preston, 4 Strings, JamX, Maor Levi, Dave Parkinson, Fabio Stein, Gleave, Les Hemstock, Pierre Pienaar, DJ Choose, Nick Rowland, Identikal and more, Trance: Ibiza Anthems 2010 does exactly what it says on the tin.
Kicking off with the Andy Moor supported Melodia "The Way" the album sets off as it means to go on building through some of the hottest anthems across both labels and combined with brand new, hot off the press exclusive tracks created specifically for this compilation from a range of artists that regularly draw support from the likes of Tiesto, Armin, Markus Schulz and Ferry Corsten to name just a few!
Download from iTunes:
http://phobos.apple.com/WebObjects/MZStore.woa/wa/viewAlbum?id=391000450
TRACKLIST
CD 1 – Mixed by Nukleuz DJs
1) Melodia – The Way (Clarks & Setrise Remix)
2) Setrise pres EBM ft Marcie – Broken Promises (Original Mix)
3) Damien S ft. Marcie – Before You Leave (Ivan Mateluna Rmx)
4) Nathan C & Danny Dove – Something Goin' On (Ben Preston)
5) Pierre Pienaar – Life.Love.Lies (Original Mix)
6) Melodia – Is It Friday Yet? (Original Mix)
7) Javah ft Xan – Vice of Life (4 Strings Remix)
8) P.H.A.T.T. – Not Today (Johan Ekman Remix)
9) Daniel Loubscher & Illyra – Now or Never (Viceversa Rmx)
10) DJ Choose & Fredin – ASD (P.H.A.T.T. Remix)
11) Daniel Loubscher & Manuel Juvera – Himalaya
12) JamX ft Lulo Reinhard – Guitarro (Original Mix)
13) Hemstock & Ric Scott – Revolution (Masonix Mix)
CD 2 – Mixed by Ross Anderson
1) Ross Anderson & Shaun Gregory – Vela
2) Shaun Gregory – Barollo
3) Shaun Gregory – Red Angus Limosuine (Gleave Remix)
4) Dave Asprey – Ogre
5) Ross Anderson & Shaun Gregory – Foundation (Maor Levi Rmx)
6) Syntra – Connect
7) Killswitch & Kelly Jay – Freeze (Magentax Remix)
8) Nick Rowland & Identikal – Panic
9) Matthew Dunne – The Cause Of Chaos
10) Nick Rowland & Jim Wild – Carrera
11) Chimo Bayo – La Fiesta Del Fuego (D-Mark Dub Mix)
12) Ross Anderson – Cygnus
13) Ross Anderson – Vipros
14) Syntra – Paradise
Download from iTunes:
http://phobos.apple.com/WebObjects/MZStore.woa/wa/viewAlbum?id=391000450
Formed in 2002 for the DJ Nation series, Nukleuz DJs have represented the cream of emerging hard dance talent on Nukleuz and over various projects have included legends such as BK, Vinylgroover, Andy Farley, Nick Sentience, Darren Styles, Mark Breeze, Phil Reynolds and more and is now fronted by Nukleuz's own Head of A&R Dave Louca and in-house studio whizz kid JAKAZiD.
The first project with it's new pilots at the helm was a collaboration album with Maelstrom & Nebula DJs called Ibiza Trance Anthems 2007. This smashed into the number 1 spot in both the UK & USA iTunes Dance Chart and was followed up by successful sequels in 2008 and 2009. The project that put Nukleuz DJs on the map was the massive DJ Nation EP series which sold over 20,000 copies and became the first 12" only release to hit the Top 40 for over a decade and set in stone that hard dance was a strong and vibrant scene and flew in the face of falling vinyl sales. This was followed up in 2003 with DJ Nation: Bootleg Edition which went on to achieve the same monstrous level of success! http://nukleuz.com/artistinfo/nukleuz-djs-biography/
ROSS ANDERSON
Vancouver based DJ / Producer, Ross Anderson has firmly established his presence as one of the strongest emerging trance talents in the scene, building a reputation for his high energy and exciting DJ sets as well as killer track releases on his own label Vision Control Deep. In Mid-2010 Ross launched Vision Control Deep in collaboration with Dan-Identikal as a platform to showcase the wealth of hot new material coming from his studio as well as from some of the world's top production talents including Maor Levi,Gleave and Maarten De Jong.
Highlights over the past couple years have included playing alongside world class DJs such as Armin Van Buuren, Ferry Corsten, Above & Beyond, Thrillseekers and Cosmic Gate as well as spinning at the full moon party in Thailand and The Ministry of Sound-Taipei closing for Eddie Halliwell on the Fire it Up Tour. http://www.myspace.com/djrossanderson
VISION CONTROL DIGITAL
Launched in September 2009 by Identikal and in-house engineers such as Nick Rowland and Nick Sentience the label immediately unleashed some of the year's peak time anthems drawing support from the like of Tiesto, Ali Wilson, Daniel Kandi, Above & Beyond, 4 Strings, Adam White, Tom Colontonio and more. This year with the addition of Ross Anderson's Vision Control Deep label the company is growing from strength to strength and even started their own radio show on Slinky.Fm every 2nd Friday of the month, Vision Control Sessions hosted by Identikal & Nick Rowland 6pm until 8pm.
http://www.visioncontroldigital.co.uk
Download from iTunes:
http://phobos.apple.com/WebObjects/MZStore.woa/wa/viewAlbum?id=391000450
Related Posts