Trance: Miami 2010 – OUT NOW – 2 DJ Mixes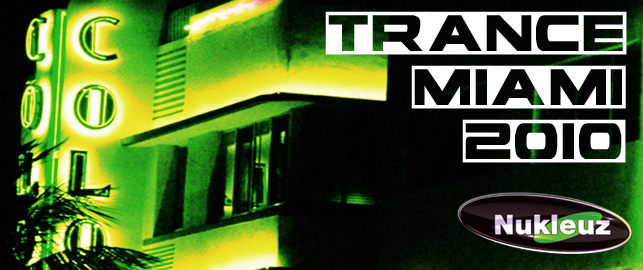 As well as being one of the most important annual international events on the dance music calendar, 2010 marks the 25th anniversary for the annual Miami Winter Music Conference as an essential destination for clubbers and industry alike. In celebration and with this year's Winter Music Conference (WMC) in full swing in Miami, Nukleuz have pulled out all the stops for their 2 DJ Mix trance session, Trance: Miami 2010 combining their hottest upfront tracks with killer new exclusives especially for the stateside clubs and hotel pools. Featuring massive anthems and remixes from the likes of JamX, S.H.O.K.K, DJ Choose, TFT, Organ Donors, Phil Crawf, Pierre Pienaar and more.
Download exclusively from iTunes
Trance: Miami 2010
http://itunes.apple.com/album/trance-miami-2010/id358339201
2 DJ Mixes
20 Individual Download Track (DJ Friendly & Full Length)
All 100% compilation exclusive!
Tracklisting:
Trance: Miami 2010 – CD1:
01. Fredin ft Emma Green 'The Reason Why' (Vocal Mix)
02. TFT 'Closed Thoughts' (Sunrise Mix)
03. Melodia 'Phoenix' (Original Mix)
04. The Joker 'Believer' (Original Mix)
05. Simon Pitt 'Purpose' (Original Mix)
06. Melodia 'Over You' (EleKtrik Mix)
07. Pierre Pienaar ft Marcie 'If You're Not Here' (Melodia Mix)
08. Dave Wright 'Ride The Storm' (Original Mix)
09. Daniel Loubscher & Illyra 'Now or Never' (Hi Plane & Jective Remix)
10. Novaline 'I Saw An Angel' (Original Mix)
Trance: Miami 2010 – CD2:
01. Rene Ablaze 'Reality' (Original Mix)
02. JamX ft Lulo Reinhard 'Guitarro' (T-Type Mix)
03. Pierre Pienaar 'First Flight' (P.H.A.T.T. Mix)
04. P.H.A.T.T. 'Amsterdam' (Powerdrive Mix)
05. S.H.O.K.K. 'Bobby Carraro' (Darling's Revenge)
06. Phil Crawf 'Deadbeat' (Original Mix)
07. DJ Choose 'Saw Blade' (Original Mix)
08. Organ Donors 'In Power' (DJ Choose's Under The Knife Remix)
09. DJ Choose 'Stranger Danger' (Part 2)
10. Organ Donors 'Mental Atmosphere' (Louk's Under The Knife Remix)