Trance Sessions Mash Up – Available for Pre Order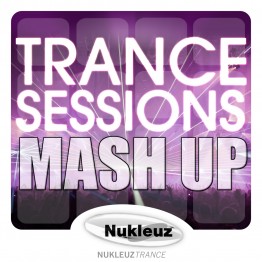 Nukleuz's critically acclaimed Trance Sessions series returns for its 8th and most unique installment, mashing up and bootlegging 36 huge trance anthems chosen from the label's internationally respected catalogue of chart hits and club classics from the past two decades. Mixed and mashed by Cut & Splice, the compilation fuses together upfront club tracks with some of the biggest old skool trance anthems of all time in one seamless DJ mix.
Trance Sessions: Mash Up is the 3rd in a series of Mash Up projects from the label starting with the hugely successful Hard Dance Mash Up which stormed the iTunes Dance Album Charts and even now over a year after release it is still one of our biggest selling albums. Then came Hardcore Mash Up and the #1 iTunes Dance Album chart smash Big In Ibiza: House Mash Up.
Taking their lead from the club culture of bootlegs, mash ups, white labels and dubplates this unique project twists Nukleuz's biggest records with an anything goes attitude. Combining the likes of Mauro Picotto, CRW, Mario Piu, P.H.A.T.T., Fonzerelli, BK, Megamind and Joy Kitikonti with an almost reckless abandon that is thoroughly engaging and exciting to behold.
Cut & Splice aka Josh McInnes exploded onto the house scene last year after earning the illustrious position of in-house producer/engineer for Media Records Ltd and joins artists such as Tom Neville who have also held this coveted title. Creating a wave of killer original productions and remixes under his Cut & Splice guise (and other pseudonyms) as well as engineering for the likes of Jonathan Ulysses (Space), Rachel Barton, Chris MiMo and Love Assassins.
This is the start of what is sure to be a long and exciting career for Cut & Splice whose unique live sets and bootlegs provide something for everyone, from your cheesiest student union right through to the most cutting edge new genres. We definitely put them down as ones to watch out for in 2010!
Tracklisting
1. Melodia – Motion Theory (North Star Remix)
+ Mauro Picotto – Komodo (Save A Soul) (Video Mix+Acappella)
2. Will Atkinson – Perpetual Sunrise
+ Vinylgroover & The Red Hed – Everlasting (Acappella)
+ JoBabe – Let Me Be Your Fantasy (Acappella)
3. Melodia – The Way (Clarks & Setrise Remix)
+ JoBabe – U Sure Do (Acappella)
+ Javah feat. Stacey McLean – You & Me (Acappella)
4. Pierre Pienaar – Isis (Melodia Remix)
+ 4 Rising Stars – Feelin' Me (Acappella)
5. CRW – Precious Life (R.A.F. Mix)
+ Fonzerelli – Spirit (Wanna Stay Here Forever) (Acappella)
+ Nathan C & Danny Dove – Something Goin' On (Acappella)
6. DJ Bismark – Primitive Love (Trainclub Mix)
+ Ibiza Knights – (Feels So) Good To Be Alive (Acappella)
+ CRW presents Veronika – Like A Cat (Acappella)
7. Aurosonic pres. Up n Go – Untouchable (Club Mix)
+ CRW – I Feel Love (Acappella + Riff)
+ PHATT feat. Kate Smith – Worlds Apart (Acappella)
8. Mario Piu pres DJ Arabesque – The Vision (Vision 1)
+ Megamind – Taub (2002 Mix)
+ Mario Piu – Communication (Somebody Answer The Phone) (Acappella)
9. Joy Kitikonti – Joyenergizer (Psico Remix)
+ Cortina – Higher (Acappella)
+ Fonzerelli – Moonlight Party (Acappella)
10. DJ Choose & Michael Splint – DJs Take Control
+ Mauro Picotto – Lizard (Claxxixx Remix)
+ Connected feat. Max'C – A Feeling (Acappella)
11. Mauro Picotto – Ibiza Angel (Rex Mundi Remix)
+ JAKAZiD – Find Me (Acappella/DJ Space Raven Acappella)
12. BK – Revolution (PHATT Remix)
+ BK – POS 51 (Acappella)
+ Audioscape – Walk Away (Acappella)
13. JamX – Liebe (PHATT Remix)
+ Cortina – Music Is Moving (Acappella)
+ Fonzerelli – Dreamin' (Of A Hot Summers Night) (Acappella)
Related Posts