Trance Sessions Solstice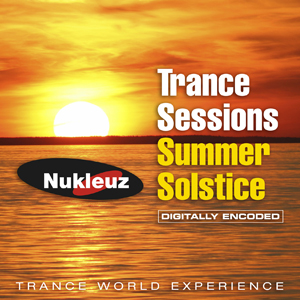 SOLSTICE: A CULMINATION OR TURNING POINT
In some ways that's exactly what this album is. It's a culmination of several years of bringing together all the best bits of trance that move in and out of Nukleuz's South London Clapham offices. It's also a great time to dance in a field with your iPod on playing great music.
Nukleuz Records have been a leading purveyor of trance, hard trance, tech trance and general euphoric tuneage for many years introducing artists such as Mauro Picotto, CRW, Mario Piu, Joy Kitikonti, Alphazone & recently, through sister label UMM, Fonzerelli as well as supporting new and up and coming artists, some of which are debuting on this album!
2007 sees Nukleuz resigning Mauro Picotto (exclusive remix from his new album featured on this set) and signing Pierre Pienaar to head the classic Nukleuz Green label (responsible for some of the all time great tech trance tracks) with many of his new and exclusive remixes and productions showcased here including the brand new rework of Top 15 record CRW 'I Feel Love' and Mario Piu 'The Vision'
Features productions from some of the biggest international DJ / producers in the scene including ATB, Mauro Picotto, Cosmic Gate, Mario Piu, Fonzerelli, Darren Styles, Woody Van Eyden, Mark Sherry (Public Domain), Wippenberg, Alex MORPH, CRW, Alphazone, Lost Witness, Dave 202 & Stu Allan.
Track Listing:
CD 1 – Nukleuz DJs
1) Fonzerelli 'Moonlight Party (Original Mix)'
2) *Aaron McClelland 'Spirit (Wanna Stay Here Forever) (Vocal Mix)'
3) *PPD 'Enjoy The Silence (Mauro Picotto Remix)'
4) *Solstice 'Summer Solstice'
5) *Andy BopH 'Rat Trap (Melodia Remix)'
6) Mr Sam ft Kirsty Hawkshaw 'Insight (ATB Remix)'
7) *TFT 'Lucid Awakening'
8) *Red Star Feat Tamela 'I Can't Sleep (Original Mix)'
9) *Stuart Millar 'Rise (Original Mix)'
10) *Michael Dow 'Junglist'
11) DJ Machine @ Wallringtunnel '7 Days 1 Week (Mark Sherry Rmx)'
12) *Kenzie & Cobain ft Mikee 'High On Life (Steve Jones Mix)'
13) *Todd Tobias 'Under One (Original Mix)'
14) Darren Styles & Mark Breeze Pres. Futureworld 'Chemical Love' (Infextious Mix)
15) *Audioscape & Kelly C 'No More Rain (Original Mix)'
16) *Audioscape & Kelly C. 'One Heart & One Mind (Original Mix)'
17) BK 'Revolution' (Alphazone Remix)
CD 2 – Pierre Pienaar
1) *Woody Van Eyden ft. Jimmy H 'Y68 (Alex M.O.R.P.H. & Woody Van Eyden Mix)'
2) Cosmic Gate 'Should've Known (Wippenberg Remix)'
3) Lost Witness vs Sassot 'Whatever (Original Mix)'
4) *North Star 'Out Of Sight'
5) *Pierre Pienaar 'Tsunami'
6) *Lost Witness ft Kate Smith 'Take Me There (Pierre Pienaar Remix)'
7) *TFT 'Aspiration'
8) Dave 202 'Torrent (Original Mix)'
9) *Sassot 'Suddenly (Original Mix)'
10) *Tatana & Tyas present TT 'Children (Original Mix)'
11) *Pierre Pienaar 'Daybreak'
12) *Stu Allan 'Far Away (Pierre Pienaar Vocal Remix)'
13) *Technikal 'Terminal Velocity'
14) *P.H.A.T.T. 'La Musica'
15) *Aftershok 'It Gets Better'
16) *CRW 'I Feel Love (P.H.A.T.T. Remix)'
17) *Mario Piu 'The Vision (P.H.A.T.T. Remix)'
Download from iTunes
Download from Amazon
Related Posts