Trance Sessions Vol. 6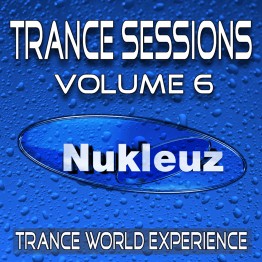 Nukleuz has always had huge success with its Trance Sessions series, simply because of the consistent quality of the music on each release. Trance Sessions Vol. 6 is no different.
Mixed in the historical Nukleuz studios that have been pivotal in establishing label as a leading purveyor of trance, hard trance, tech trance and general euphoric tuneage over the years, this compilation presents twenty tracks of upfront, uplifting and pumping Trance over two seamlessly mixed CDs.
Featuring a mixture of Nukleuz' biggest recent anthems and exclusive forthcoming records, Trance Sessions Volume 6 is comprised of tracks which have collectively received support everyone who's anyone in Trance and been spun in clubs the world over.
Download from:
iTunes
Trackitdown
Beatport
DJ Download
Tracklist:
1) Clarks – Forgotten Emotions
2) DJ Choose – Silk Ceiling (Fredin Remix)
3) Iga Khob – Everything In Time
4) Pierre Pienaar – Never Again
5) David Bernardi & Antonia Lucas – Gloria
6) CJ Daft – Seize This Moment (Tom Morocas P
7) Vanity In Mind – Electric Sunrise
8) T.O.M. & Alpha Force – Paradice (Sovt "Progressive" Remix)
9) Warner Powers & Michael Paterson ft Andrea Britton – Kontrol
10) Jay Saunders – Reason For Being (Electro Mix)
11) DJ Talger – Epic
12) Chris Baker – Nothing Else Matters (Chris Baker Remix)
13) oneUP – Vyatka At Night
14) P.H.A.T.T. – Kanashii
15) Deep Whirlpool – Summer Jam
16) Nianaro – Unforgettable
17) Pulse & Sphere – I Surrender
18) Sanya Shelest & Dima Revert – Forward Only (Dewstuffz Remix)
19) Simon Williams – Star Sequence
20) S.H.O.K.K. – 4 Of A Kind
21) DJ Mix 1
22) DJ Mix 2
Related Posts