Frantic 14th Birthday @ Koko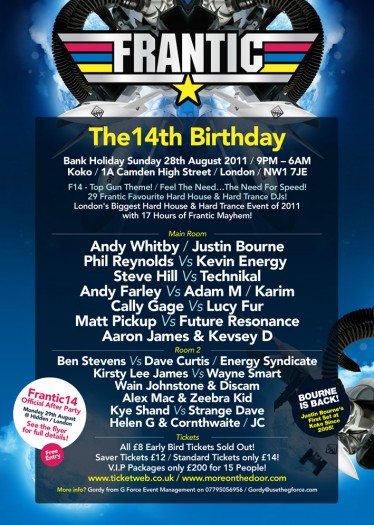 Frantic 14th Birthday and Official After Party
Bank Holiday Sunday 28th August 2011
Frantic 14 Main Party (9PM – 6AM): Koko, 1A Camden High Street, London, NW1 7JE
Frantic 14 Official After Party (6AM – LATE): Hidden, 100 Tinworth St, London, SE11 5EQ
"OVER 1000 ADVANCED TICKETS NOW SOLD!
ALL £8 EARLY BIRD, £12 SAVER AND VIP TICKETS SOLD OUT!
£14 STANDARD TICKETS ON SALE NOW!
MORE ON THE DOOR!"
Over 15 Hours of Frantic Hard Dance Mayhem!
F14 – Top Gun Theme!
I Feel The Need…The Need For Speed!
Over 40 Frantic Favourite Hard House & Hard Trance DJs!
On Bank Holiday Sunday 28th August 2011 come help celebrate as London's biggest and longest running Hard Dance brand hits its massive 14h Birthday! We have a very special birthday party planned just for you, the Frantic faithful at the not to be missed event of 2011!  Don't miss the celebrations of 14 years of the best music and parties from Frantic at the almighty Koko in Camden and the fun-filled after party at Hidden!
Special souvenir Frantic 14 Wristbands, only available at Koko, will get you free entry into the massive After Party shenanigans at Hidden.
——————————————————————————————————-
FRANTIC 14TH BIRTHDAY PROMO VIDEO
——————————————————————————————————-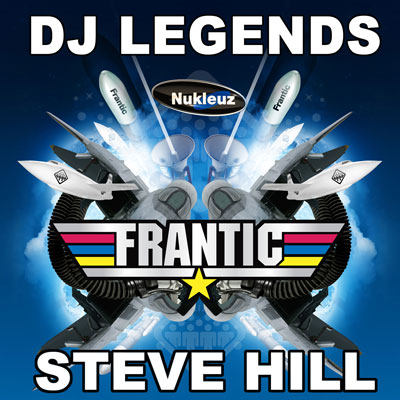 FRANTIC: DJ LEGENDS: Mixed by Steve Hill
Frantic and Nukleuz have always prided themselves on consistently working with the hottest hard dance acts in the world. Tied in to  Frantic's 14th Birthday party at Koko, London, this Frantic DJ Legends series aims to celebrate the now legendary status held by some of its favourite resident DJs, starting with Steve Hill.
Release date is Monday, August 15th, 2011.
Pre-Order from: iTunes
——————————————————————————————————-
Important Venue and Travel Info:
The address for Koko is 1A Camden High Street, London, NW1 7JE
TUBE:
Mornington Crescent Tube station is just across the road, which you can reach on the Northern Line.
Please check  HYPERLINK "http://www.tfl.gov.uk/" http://www.tfl.gov.uk/ for more info.
PLEASE NOTE THAT LAST ENTRY TO KOKO IS 2AM.
——————————————————————————————————-
Frantic 14 Main Event Line Up
Main Room:
Andy Whitby
Justin Bourne
Phil Reynolds vs Kevin Energy
Steve Hill vs Technikal
Andy Farley vs  Adam M
Karim
Cally Gage vs Lucy Fur
Matt Pickup vs Future Resonance
Aaron James & Kevsey D
Room 2:
Ben Stevens vs Dave Curtis
Energy Syndicate
Kirsty Lee James vs Wayne Smart
Wain Johnstone & Discam
Alex Mac & Zeebra Kid
Kye Shand vs Strange Dave
Helen G & Cornthwaite
JC
————————————————————————————————————
CLICK HERE FOR FACEBOOK EVENT PAGE:
——————————————————————————————————-
ATTRACTIONS
Over 15 Hours of Frantic Hard Dance Mayhem
Over 40 Frantic Favourite Hard House & Hard Trance DJs
Top Gun Theme and Prizes for Fancy Dress
World Renowned JBL sound system
Mind altering lights, lasers and visuals
Full Frantic Decor
Professional On Night Film Crew
Full Stage Show from Twisted Bliss Entertainers
TICKET INFO
OVER 1000 ADVANCED TICKETS NOW SOLD!
ALL £8 EARLY BIRD, £12 SAVER AND VIP TICKETS SOLD OUT!
£14 STANDARD TICKETS ON SALE NOW!
MORE ON THE DOOR!
TICKET OUTLETS:
More On The Door
Ticketweb
The Ticket Sellers
Dont Stay In
View London
Skiddle
Data Transmission
See Tickets
Cash Sales From Frantic HQ (07795056956) or Cyberdog Camden (020 7482 2842)