Frantic VS Moondance FREE Payback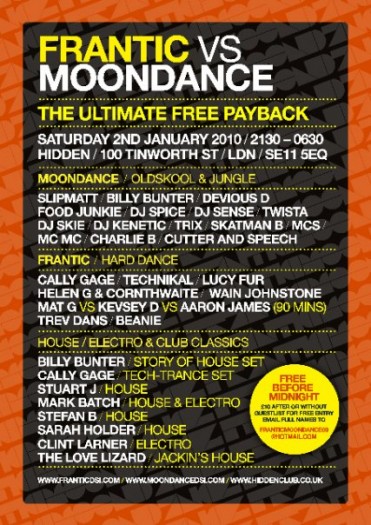 The fourth annual road-blocked Frantic vs Moondance returns on Saturday 2nd January, with two of the capital's biggest promoters coming together to bring you an amazing post-NYE FREE party.
Frantic vs Moondance should be the ultimate payback party to shake off those January blues, and your post-NYE hangover and will give you the opportunity to party to the music you love from your favorite acts. There's a massive line up with over 30 acts across 3 arenas playing Old Skool, Jungle, Hard Dance, House, Electro and Club Classics.
The newly refurbished Hidden has a brand new sound system and heated garden area so make sure you don't miss out on the biggest first party of 2010!
Saturday 2nd January 2010
21:30 – 06:30
Hidden, 100 Tinworth Street, London, SE11 5EQ
FREE before Midnight if you email your names to FRANTICMOONDANCE09 @HOTMAIL.COM
£10 After

Moondance (Old Skool and Jungle)
Slipmatt
Billy Bunter
Devious D
Food Junkie
DJ Spice
DJ Sense
Twista
DJ Skie
DJ Kenetic
Trix
Skatman B
MCs MC MC, Charlie B, Cutter and Speech

Frantic (Hard Dance)
Cally Gage
Technikal
Lucy Fur
Helen G & Cornthwaite
Wain Johnstone
Mat G vs Kevsey D vs Aaron James (90 Mins)
Trev Dans
Beanie

House, Electro and Club Classics
Billy Bunter (History of House Set)
Cally Gage (Tech-Trance Set)
Stuart J (House)
Mark Batch (House & Electro)
Stefan B (House)
Sarah Holder (House)
Clint Larner (Electro)
The Love Lizard (Jackin's House)

franticdsi.com
Related Posts