Timeless 8: The Hard Valentines Disko & FREE DJ MIXES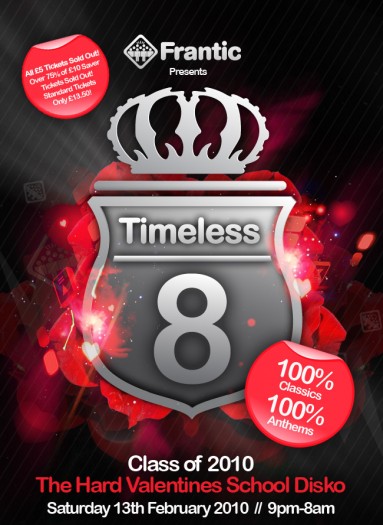 After an electrifying New Years Eve at a full to capacity Hidden, Frantic unleash Timeless 8, their Class of 2010 Hard Valentines School Disko on Saturday 13th February, 9pm-8am! Featuring the biggest DJs spinning the cream of Hard Dance classics across 4 arenas!
Get ready for the biggest Hard Dance history lesson ever
seen in London with a line up that will educate you in all things Hard with Timeless' school disko theme at Hidden (100 Tinworth Street, Vauxhall, London, SE11 5EQ, UK)!
All £5 Tickets have now Sold Out! So get in quick as the discounted
10 Saver Tickets are selling out fast! For ticket information click here
Timeless 8 falls on Valentines Weekend so we hope some of you will find love at our School Disko but don't get caught behind the bike sheds!
CLICK HERE FOR SAM & DEANO'S INTERVIEW & COMPETITION TO WIN 2 TICKETS TO TIMELESS:
http://www.dontstayin.com/uk/london/hidden/2010/feb/13/article-11962
CLICK HERE FOR SAM & DEANO'S VINYL ONLY MIX UP:
http://www.sendspace.com/file/nh7aum
CLICK HERE FOR MDA & SPHERICAL CLASSICS MIX:
http://www.sendspace.com/file/3n26f4
CLICK HERE FOR WAYNE SMART VINYL ONLY CLASSICS MIX:
http://www.sendspace.com/file/eoztky
DJs On The Night
THE ASSEMBLY HALL
Nu Energy Collective Live PA
Andy Whitby
BK & Nick Sentience (90 Mins) Exclusive DJ / VJ Set
Technikal vs Phil Reynolds (90 mins)
Paul Glazby
K90 (Classics DJ Set)
Pickup & Rise
Adam M (Tin Rib Classics)
Matt Clarke
Big Ben
THE GIRLS LOCKER ROOM (HOSTED BY CONTAGIOUS)
Lisa Pin-Up
Frisky
Lucy Fur
Caz Wood
Helen G
Nathalie
April
Jo Jo and Mini Minx
Kirsty Lee James
Gem Stone
THE LIBRARY – BLACK GOLD (VINYL ONLY) ARENA
Andy Whitby
Sam & Deano akaTidy DJs
MDA & Spherical
Skol
D4rk
Dave Curtis
Danny Gilligan & Danny Tappenden
Kevsey D & Aaron James
Craig Lee
Wayne Smart
JC
THE PLAYGROUND
L.E.D
Strange Dave
Tom Parr
Mike Avery
Craig Hypnosis & Mat G
Discam & Pearce M
Seany Sean vs Gordon Darley
Greg Peaks
Harry Dyer
Check out the Frantic Residents album series here…
Check out the Frantic Euphoria album series here…
Check out Hard Dance Mash Up
Check out Frantic 11
Related Posts