Future Resonance – Interview
FUTURE RESONANCE – New Zealand's Best Hard Dance DJ at the 2010 Nite:Life Awards & Best Live Act at the 2009 Nite:Life Awards.
After numerous New Zealand nationwide tours and an Australian tour celebrating his departure for the UK, Future Resonance has already played at the biggest events across Australasia (Slinky, Gatecrasher, Godskitchen, Frantic, Vicious Events, Chemistry, Fevah & his own brand Stereodays) and alongside some of the world's biggest DJ's. In the last 3 years spent in NZ FR has become one of Auckland's most booked DJ, as well as holding a weekly radio show on UPFM 3 years running.
Influenced by the uplifting sounds of UK hard house and UK hard trance, Future Resonance extracts the best components from these music styles to produce his own blend of inspiring uplifting sound and future-proof musical concepts all mixed and mashed with their unique eclectic live performing style and staggering on-stage presence.
Since his arrival in the UK things have been getting bigger and better by the month. With the release of his new album Frantic Residents NuBreed – mixed by Future Resonance, he took time out while busy with his residencies in London and before heading out to Ibiza to answer a few questions from the Nukleuz crew!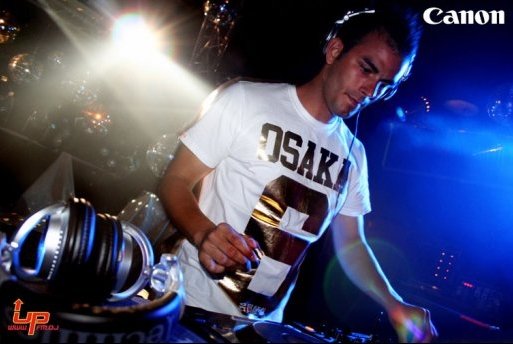 1) How did you get into DJing?
Well it was about 5 years ago in New Zealand, back then I was into trance and was helping organize events with a good mate of mine. After a few tours that we did, I realized from watching various DJs that had been playing, that it looked like a lot of fun playing tracks you love, in front a rocking crowd! So I bought myself 2 cdj800 and a djm600 and started buying tracks, then things rolled from there!
2) What does it take to be a Frantic Resident and what does it mean to you?
Oh it means the world!! To me anyway! I was a Frantic Resident back in New Zealand but, there the events are much smaller and the history of the brand is not as relevant as it is over here. Back home people know that Frantic has been around forever and they know that it is a massive brand but you cannot compare it to the perception that people have over here for the brand itself, being a resident of one of the pioneer brands of hard house within the country that started this genre of music makes me speechless really. I do not take it for granted for a singe second and it makes me very very happy and proud.
3) How do you make yourself noticed and stand out as one of the nubreed of DJs?
Well, when I arrived in the UK I was a bit worried if I was ever going to get noticed! There is so much talent over here on top of all the biggest pioneer names that are all living within a few hours distance of each other, but after nearly 1000 copies of promo various mixes, talking to people and going out to gigs after gigs you will get yourself known! Plus I guess the fact that I make my own tracks helped me in a way.
4) What makes a good DJ?
Passion and love for the music are the first and most important things, followed by the ability to apply the knowledge of tunes selection and mixing skills in a club in front of a crowd. Plus having a good 'on stage presence' and a good marketing platform (website/soundcloud etc etc) behind you helps as well, but essentially these things are worthless if no one likes the music you play!
5) What was your first experience of Nukleuz?
Mario Piu', Joy Kitikonti and Mauro Picotto, massive hits back in 97 to 99, and actually seeing them play live at the time, I am originally from Tuscany, the region where they became big within Italy. Thats when I first started clubbing, I was a little kid really thinking about it now, at that stage I didn't even know what hard house was (i only discovered it 6 years ago or so!), who would have known that now my life would of been submerged by it!
6) How did you first get into production?
When I decided to move to the UK about 4 years ago I realized that the only way to have a chance at getting gigs here would have been if I made my own tracks so that I could stand out. So I quit my job and started making tracks on my own, after doing that for 2 years I arrived in the UK with enough skills to make all my own stuff.
7) Who have you engineered for?
Not many people! Really I stopped getting studio bookings early this 2011 as I wanted to concentrate just on my own sound and projects. But in the year I had the studio open I engineered for Gary O'Connor, Dave Curtis, Kevsey D, April, Digital DJs, Ben Townsend, Wayne Smart & few others.
8) What is your next big gig?
FRANTIC 14!! NO DOUBTS THERE! This event will be insane! I have the biggest smile in the world even thinking about it. After that I have Stereodays vs Hi Oktane in London & a NZ tour coming up! Be good to play back home!!
9) What made you start running your own label?
I was back in New Zealand and had so much new material to showcase from many different Kiwi producers that I decided to make a new label which would stand out, mainly dedicated to NZ music. Over the years that changed obviously, especially since I have landed in the UK, mainly because my style of sound has changed.
10) What do you look for in artists/tracks for the label and how can people get signed to your label?
First of all it has to have our sound, which is on the uplifting side of hard house. Then the track needs to be at a highest quality engineering standard.
11) Can you give us a sneak peak at what is coming up on the label soon?
Yes we have tracks from Wizard, Tom Parr, Kevsey D to name a few plus a couple of tracks from myself as well, we are always looking for new material that excites us!
12) Where do you see hard dance going in the next 2 years?
Bigger venues and crowd hopefully with more regular nights across the country hopefully. As well I really hope that the events will concentrate on the hard house sound rather then bounce, hard-style or european hard dance which I really can't get into! But I think thats already happening.
13) Favourite gig you have ever played?
Closing set in the main room at Slinky (Auckland – NZ) after Lisa Lashes, first large venue event (3000+) and first time i ever played a hard set in front of a crowd, back then I was playing trance haha.
14) What is your most prized possession?
My MAC and my hard drive, my life is in there!
15) What is the weirdest experience you've ever had behind the decks?
I can think of a good half a dozen or so, all of various different nature but I really can't get them public for a reason or for another haha so I will have to pass on this sorry!
16) What do you do in your time off?
Make music mostly! Or spend time with my beautiful girlfriend.
17) Have you ever received strange gifts from fans?
Yes, few things that I cant really say on here sorry! So the best thing I guess was a bra (??) haha, although thats not really a gift as it was used? Not sure what else I can say!
18) What would be your ultimate holiday?
Colombia!!
19) What would you say is your best trait?
A weekend away with mates, decks and a gig in between!
20) Has it ever all gone completely wrong?
Yeah I guess so, we were playing live at a Fevah gig in Auckland, which we got moved to first set at the last minute and as it was a live set the style of music we initially planned was banging uplifting hard trance, so not suitable for the first set, we did try changing a few things here and there but in the end the live set was a flop, oh well. And to top it, I got so drunk as I was upset about it and passed out 30 min after my set finished. I was then woken up 30 minutes before the event finished. FAIL! Got told that Defective Audio had played a wicked set tho!
21) Tune/Most influential artist of the year so far?
Ilogik, his sound is just amazing, I wish he released more stuff though!
Ben Stevens & Adam M duo production over the last 12 months has blown me away, some amazing uplifting stuff in there.
Dave Owens, he keeps making banging tracks and keeps the hard house pumping left, right and centre. Respect!
22) Any advice for DJ/Producers just starting out?
Anything is possible, impossible is nothing, I live on this quote. If you want to make it happen it is all in your hands, keep doing what you love and the time will come!
23) What is next for Future Resonance?
Playing in Ibiza again in September, then a NZ tour later this year but before all this is FRANTIC 14 main room at KOKO which I wish it was here tonight!
Future Resonance Website
Future Resonance on Facebook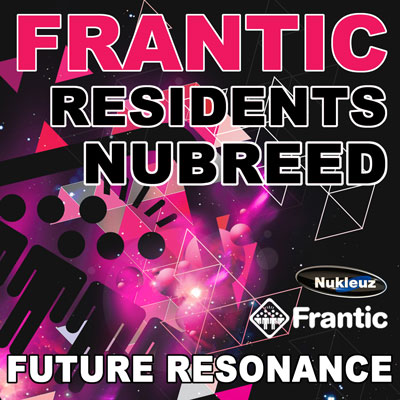 FRANTIC RESIDENTS NUBREED – MIXED BY FUTURE RESONANCE
Download from: iTunes / Trackitdown
Related Posts