Kevsey D – Interview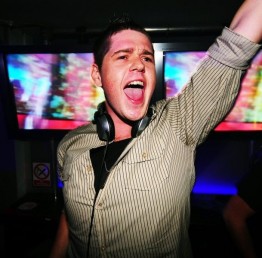 Kevsey D is a name that has been around for the last 5 years, based in London he has been apart of most of the big brands London has to offer.
He first played for Frantic as a Comp winner for Frantic's Hard Dance Showcase and impressed so much that he went on to become the co-promoter for HDS and played at every event held.
Kevsey has had the pleasure of playing over in Ibiza, 7 sets in total and his biggest set there being in the main room at Eden for Tidy vs Advance. Over the past year things have gone from strength to strength for him, playing at the last two enormous Insomniacz Magna events and some big gigs lined up for the rest of this year. his biggest news this year is being signed to Red Artist Management alongside Ilogik, Adam M, Nik Denton, Jojo, Ross Homsom, James Nardi, Pete Wardman, Justin Bourne, Ian M and Frank Farrell.
1) How did you get into DJing?
It all first started for me about 7 years ago, I had been going out clubbing for about a year to events such as Frantic, Peach and Heat to name a few, and then I moved into my first house away from home with two goods friends, one of them had a set of decks and that was that. 6 months there was spent on them, work in the day, mixing at night and partying at the weekend! At the time I was also massively into Hardcore and my first 50 Vinyl I bought were all Hardcore, but as things progressed I knew it was Hard House that would be the path I followed.
2) What does it take to be a Frantic Resident and what does it mean to you?
It really does mean the world to me, my first ever rave was a Frantic event when it was at Camden Palace, back then I was in a rock band and didn't even know what Hard House was, that night changed me, my world and the way my life is today! I told myself that night, that I would be on that mega stage one day and this year it's actually happening! so excited!!
I have been involved with Frantic for over three years now playing at many of their events, you have got to have plenty of passion, really understand what the crowd want, have loads of energy behind the decks and really get to know the clubbers, as at the end of the day it's the great people at the events that make it all possible.
3) How do you make yourself noticed and stand out as one of the NuBreed of DJs?
I always put my all into whenever I play at an event and I get filled with so much energy from the crowd that I can never just stand there when I'm playing, you will always see me dancing around and getting right involved, and a massive smile will always get people smiling back at ya! Also a big part of the scene these days is promoting yourself and if you really want to get somewhere you have got to be prepared to spend many hours getting your name about everywhere.
4) What makes a good DJ?
There are so many factors that make a good DJ, top mixing skills, great stage presence, catering your sound to the mood of the crowd, putting many hours into practising and keeping those skills up to scratch but for me it is definitely being able to read the crowd well.
Every DJ has their own sound but its no good if you get behind the decks and start playing something completely different to the DJ before if he has built up a great energy in the room, playing the side of your sound that is fitting for the time of the night and to carry on that energy.
5) What was your first experience of Nukleuz?
It must be when I first started buying vinyl, like I said before my first 50 vinyl were Hardcore but it was always Hard House nights that me and my friends were going to mostly. After a short time I started enjoying mixing Hard House a hell of a lot more because the mixing was a lot longer then Hardcore mixing and it was Nukleuz tracks that I first started buying as I was always hearing the tracks out at Frantic nights.
6) How did you first get into production?
Well when I was in my band years ago we were in the studio a lot but that was more recording my bass guitar and live instruments. I properly got into producing Hard House myself about a year and a half ago now, I set up at home with Logic and all the bits you need and have been enjoying it ever since, you never stop learning and I'm always pushing myself to get better and better.
7) What engineers have you been in with?
I have been in with Paul King, Dave Owens, Riggsy, and Future Resonance, all of which were great experiences and I learnt a lot, which helped me when getting into it myself.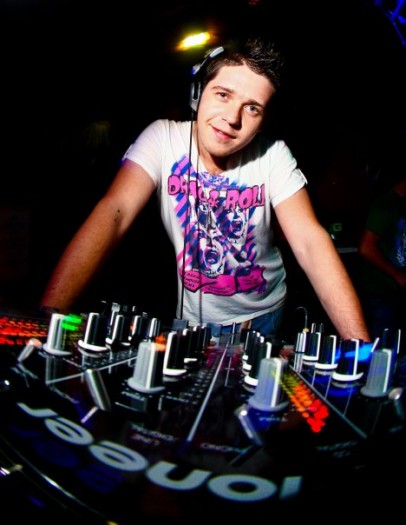 8) What is your next big gig?
I have got a couple of great gigs coming up but for me it has to be playing on the main stage at Frantic's 14th Birthday at Koko(Camden Palace)
It has been one of the gigs that I have always wanted to play from the start of my Hard House journey, I am b2b with my partner in crime Aaron James and I just know we are both gonna be ecstatic throughout the whole hour!
9) How did you get involved with Stereodays?
I had met Diego(Future Resonance) around the time when he first came over to England, I could see he was really passionate and wanted to get to know people on the scene and get involved. I set up a date to make a track with him which went really well, we made a track called Eternal Blend! After a couple more sessions in the studio with him we had really hit it off and both knew we was going in the same direction, I asked him if he wanted any help with Stereodays?
That week we had a meeting, went over things, and he wanted to make me Co-label manager for the label which I was more then happy to take on and be involved with, things have been going really well and I am so pleased to be apart of such a great label.
10) What do you look for in artists/tracks for the label and how can people get signed to your label?
It's simple really, if a track is really good and Diego and I both really like it and think it suits Steroedays then we will sign it.
11) Can you give us a sneak peak at what is coming up on the label soon?
We have got some great tracks coming out from the likes of Wizard, Gem Stone, Ian Fitzpatrick, James Taff, Myself and Future Resonance and many more. We have just had 3 tracks released from Tom Parr which have gone down a treat and doing really well.
12) Where do you see hard dance going in the next 2 years?
Dance music in general is massive again right now, even the rappers, R&B artists and all sorts are all doing dance orientated tracks, this is great for every genre of Dance and will get so many more young people involved, Hard Dance has definitely been on the up in the last couple of years, with the Tidy Weekender back in swing and Insomniacz smashing it up and down the country the future is bright, but most definitely HARD!!!
13) Favourite gig you have ever played?
My favourite gig has to be for Summits 3rd birthday at the Mass a couple of years back, headlining was a 3 hour 3 way b2b from Andy Farley, Ben Stevens and Paul Glazby, and I was on 5-6 after them. I had played up in Leeds the night before for Hi Oktane which was a great night, didn't get any sleep all day Saturday and at Summit Saturday night I had people saying to me "Kev, how the hell are you going to follow them hey??"
I was left on 163bpm which is way faster then I normally play, but I took it all in my stride and got on with it, everything went perfectly and I had the room rocking all the way through my set, enjoyed every second of it, I was very proud of myself and it will always stick out in my mind as one of my favourite sets.
14) What is your most prized possession?
Well my gorgeous girlfriend Maxine (and no she's not poking me in the ribs right now to say that! hehe!) also most prized possession has to be my iMac, would be lost without that and all my DJing equipment too.
15) What is the weirdest experience you've ever had behind the decks?
In 2008 my good friend and great DJ Steve O'Brady passed away, it was right before Awsum vs Kiddfectious at Ministry of Sound, I was booked to play the 3rd room and Steve was meant to play in the 2nd room, I was asked to play his set which was a great Honour, it was the most craziest and hardest set I have ever played, firstly there was a minutes silence before I went on which was surreal and girls crying at the front of the dancefloor, a room of a thousand people full of emotion and everytime I put my hands in the air everyone did too!
I will never ever forget that night, miss ya Steve mate! R.I.P!
16) What do you do in your time off?
Spend time with my girlfriend, have just started playing golf which I am loving right now. but you don't ever really seem to get time off, there's always something to be doing, whether it's promo stuff, mixing, making a track or going out to nights your not playing at. Love every minute of it though!!
17) Have you ever received strange gifts from fans?
Off the top of my head I can't say I have, I'm sure if I would of done I would remember it straight away.
18) What would be your ultimate holiday?
Well I was out in Thailand for a month this year and I tell you what, I am counting down the days until I go back, it's so amazing out there in every way, my ultimate holiday would be to go there for 3 months and then spend another 9 months travelling across Asia.
19) What would you say is your best trait?
Probably being a good listener and being able to give people good advice from understanding the things they have said to me.
20) Has it ever all gone completely wrong?
If ya mean behind the decks then yeah a few times, which I'm sure a lot of DJ's would be able to say! One time that does stick out in my mind was a b2b I did with Skol the vinyl legend, it was for Hi Oktane vs Twist and we were the only vinyl set for the night, Skol did the first mix which went wrong and then he turned to me and said, "Kev these 1210's are totally S**T, and when you here that from Skol who has been playing Vinyl for over 20 years you know things are gonna be hard work. Everytime you touched the pitch it went out massively and it was a real struggle, but credit to the crowd as they were there all the way through the set and could see the trouble we were having.
21) Tune/Most influential artist of the year so far?
Ross Homson has been doing really well this year, making some cracking tracks and getting his name on more and more line-ups everywhere, also Adam M has played a massive role in the scene over the last few years and deserves his place amongst the top artists, a credit to Hard House.
22) Any advice for DJ/Producers just starting out?
Yeah don't try and run before you can walk, the guys at the top are at the top because they have been doing all this for longer than a lot of us can imagine and have put in years of work and dedication, if you want to really make something of yourself enjoy every step of the way and remember the journey is just as amazing as where you are trying to get to.
23) What is next for Kevsey D?
Just doing what I'm doing, working hard with Stereodays label and the events, getting more gigs and making more tracks, I have also got a big gig coming up overseas on NYE which I am really excited about, details of this will be out soon.
Kevsey D on Facebook
Stereodays Recordings Website
FRANTIC RESIDENTS NUBREED – MIXED BY KEVSEY D
Download from: iTunes / Track It Down
Related Posts