Pickup & Rise – Exclusive Interview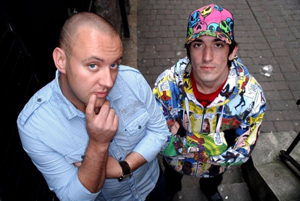 2007 saw the creation of a hard working, formidable but fun new b2b duo: Matt Pickup & Andy Rise have been friends for years and first DJ'ed together in 2003, but they made things official (no, they didn't tie the knot!) in 2007 and DJ'ed together most weekends.
When you go to see the boys expect a pinch of high paced NRG with some tasty bootlegs and mashups with a side order of scratching, served up with lots of bouncing around and interaction with the crowd!
They are also well known for their groovy warm up sets and have a reputation for being down to earth and tongue-in-cheek and never failing to entertain.
With joint residencies for superclub Frantic and smaller night Summit as well as their separate residencies the boys have already made their happy, smiley mark across the hard dance scene. They also hold regular slots at famous afterclubs Shine and Twist.
When these two DJ's get together, there's no telling what's going to happen. Many back to back acts simply don't have the level of tightness in working together as these two do. Combining Matt's energy with Andy's trickery along with their productions they compliment each other perfectly. Between them their track selection is outstanding, and I have never known this double act not to deliver a high standard of professional mixing that is expected by promoters. They also have an extremely strong following all the way up and down the country, and any clubber that has missed them these last few years should chalk them up as one to watch
After providing Nukleuz with a stonking 2nd show for episode 5 of the new Nukleuz Hard Dance Podcast series, I found some time to pick the brains of Pickup & Rise.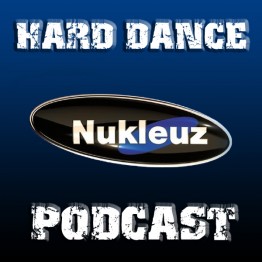 1. What are you working on at the moment?
Matt – I've been working hard on our new digital label RiseUp Digital. We have a release out every Friday so it's always going to keep us busy. We have been hitting the studio hard too with Cally Gage, Ben Stevens, Leon Allen and we have some dates booked in with Mini Minx & Gem Stone too so really busy Times in the Pickup & Rise camp.
Andy – This interview for the brand spanking new look Nukleuz website. Seriously though I've got a couple of tracks for RiseUp Digital on the go at the moment and I have also been coming up with ideas for our podcasts Matt and I are working on, watch this space people!
2. Where do you see dance music going in 2010?
Andy – 2009 has been a massive year for dance music; you can see that looking at the charts with artists like The Black Eyed Peas & Kelly Rowland working with David Guetta, and you couldn't go to a festival last summer and not hear Armand Van Helden & Dizzie Rascal's Bonkers. Not all the tracks I've mentioned have been my cup of tea but dance music being more in the mainstream can only be a good thing for the whole industry.
Matt – That is a tough question to answer because the whole dance scene evolves year by year, different trends seem to hit the clubs, which is a good thing because it keeps dance music fresh & new. I think the whole dance scene has been hit really hard by the recession over the last year or so, but I have noticed clubs starting to sell out and fill up again which is brilliant news for the scene. There are a lot of new up and coming producers too bringing their new and fresh vibes to the music so on the whole I feel quite positive about 2010.
3. What makes a good DJ?
Matt – Choice of Tunes, Personality, Hard Working & Sense of Humor. (Oh and can beat match)
Andy – Crowd Interaction is a must for me, yeah a DJ has to be playing good music to be getting the place going but if the club can see the DJs interacting and looking as though they are enjoying themselves then it definitely pays off.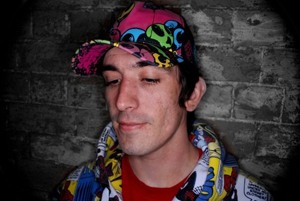 4. What's your favourite bit of kit, and how does it sit in your overall set-up?
Andy – My beloved Blackpool FC home shirt, it usually sits on my shoulders on match day ;-) My best piece of kit is my pc armed with Fruityloops & Ableton; I've lost many an hour with them. I have always used software to produce until recently when I purchased a midi keyboard so I have been using that to help me create music.
5. Tune of 2009/Most influential artist of 2009?
Matt – My tune of 2009 would have to be Pretender & Agent Zero – S Express. The most influential artist of 2009 is Andy Farley. (The king of hard house, if we can achieve half of what Andy has over the years I would be more than happy)
Andy – A slightly biased track but Pickup & Rise Vs Ben Stevens – Koko Pops was probably my fave track of last year, which leads me on to say Ben Stevens is without a doubt the most influential artist of 2009. Ben's been working like a trojan horse in the industry for years but since he's opened up his studio doors his production has come on ten fold and more.
6. What can we expect from you in the future?
Andy – Vie been keeping as busy as I can in the studio making tracks, and you can expect to hear a lot more of us on Nukleuz.com with our podcasts.
Matt – Who knows I'm not mystic Meg lol but I can guarantee a lot more of what we have been doing now with production and we plan to bring RiseUp Recordings on cd releases as well as digital.
7. How did you get into DJing?
Matt – I got into DJing from going to Gatecrasher & Insomniacz when I was a youngster and watching people like Andy Farley, Paul van dyk, Mauro Picotto and I thought you know what , I reckon I can do that. So I bought some decks and the rest is history.
Andy – I've always had a massive passion for music, I started piano lessons at a young age and got to grade 4, I was in my high school band and jazz band playing the keyboard. I then taught myself how to play guitar whilst I was also at High School so music's always played a big part of my life. I downloaded a pair of mp3 decks just after id left school and was instantly hooked, I got my first decks 6 months later and I've never looked back.
8. Favourite gig you have ever played?
Andy – That's such a hard question to answer, pretty much every gig I've had chance to play has been amazing for many different reasons but our Tidy Weekender debut was one that sticks out in front of most. Tw1 was the first hard dance event I attended so to find myself years later closing the main room on the Friday night was such a dream come true.
Matt – I would have to say either playing at the Bulldog bash festival with 3000 Crazy Bikers or when we played Koko main room for Frantic's 11nth Birthday, the atmosphere in there was electric.
Matt – Frantic Hard House Academy at Brixton Academy.
B2t Vs Frantic at Gatecrasher on the May Bank Holiday was out of this world! The venue is second to none!
10. Twitter or Facebook?
Andy – Facebook. I'm on Twitter but I never use it.
Matt – Facebook
11. What is your most prized possession?
Matt – My Goldfish (Called Sharona)
Andy – My Daughter
12. What tunes are on your playlist at the moment?
Andy – When I'm not practising or producing I usually find myself listening to all kinds of music. The most listened to albums of the moment are Eminem – Relapse and The Libertines – Time For Heroes (Greatest Hits). The Jack Beat's Essential Mix has also been floating my boat, they have been making some barmy music recently.
Matt – 1. Mini Minx & JoJo – Betty Boo (Fireball)
2. Pleiades & James Nardi – Supernova
3. Sage & Abe Gurner vs Riggsy – I'm Not Going Home (RiseUp Digital)
4. John Kerrigan & Frank Farrell – Chicken Face (HardSounds)
5. Karl Davis & Nik Denton – Stampede (Trade Up)
13. Cats or Dogs?
Matt – Dogs.
Andy – He would say that wouldn't he? Cats, all the way for me.
14. What is the weirdest experience you've ever had behind the decks?
Andy – I've had some extremely random requests to play, DJing with Matt is usually a weird experience in itself.
Matt – Without a doubt it's seeing 3000 leathered up hells angel bikers with glow sticks at the Bulldog bash Festival going absolutely mental to hard house. It is definitely one of the most surreal moments I've ever experienced behind the decks, absolutely crazy but an awesome place to play.


15. What do you do in your time off?
Matt – Football!!!!!! I play Football for our 6 a side team (Bacon & Hove Albion) & I like to see my team play Blackburn Rovers. I know a lot of people think its boring but I also like cricket too, nothing better than going to watch Lancashire or England and having a few Wrongbows.
Andy – Time off, what's this crazy new fangled thing that you speak of? When I'm not working or spending time with my daughter I like watching comedies, just building up my collection of South Park boxed sets at the moment, I'm hooked.
16. Have you ever received strange gifts from fans?
Andy – Yes!!! I think its probs best I just leave it at that though.
Matt – Quite funny you should ask that question, I came out of Twist on New Years Eve with the campest hat you have ever seen, but ill be honest though, god knows where it came from.
17. What would be your ultimate holiday?
Matt – I do Love Ibiza, I've had some brilliant and memorable times on the white isle. I like hot places, I don't do the cold, me and the Mrs. have been looking at St Lucia or Australia for next year so probably there.
Andy – A trip to Amsterdam or a damn good Festival :-)
18. What would you say is your best trait?
Andy – Insanity.
Matt – Enthusiasm.
19. What was your first experience of Nukleuz?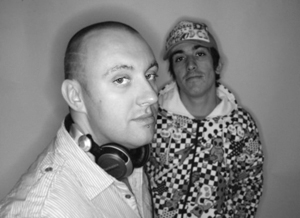 Matt – I'm not sure what My First experience was, it was either when I bought Lisa Pin Up – To Love is to listen or Fergie – Hoovers & Horns (Both wicked tracks)
Andy – My first Nukleuz experience was listening to Vinyls in Hmv when I first got my decks, I'll never forget Sunnys North in 02 when Nukleuz hosted the back room. It was my first time at Sundissential but I spent the majority of the night in the Nukleuz room.
20. Has it ever all gone completely wrong?
Andy – It usually does most days to be fair ;-)
Matt – New Years Eve 3 years ago, I and Andy were playing 1 – 2 am. Us being from the north and not realizing that at new year the police close roads off in London for the fireworks we managed to get trapped in our car and missed our set between 750.000 people surrounded us as we got stuck near Vauxhall bridge. We managed to play later but it was an absolute nightmare the headphone socket on the mixer fell through and to top it off it took 8 hours to drive home.
Andy – Take that for example!
Check out Frantic 11 on Double CD and Download – Out Now – Mixed by Anne Savage, Proteus, Cally Gage, Frisky, ADAM Lab4 and of course… Pickup & Rise!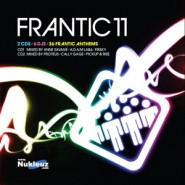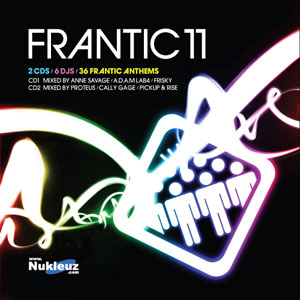 Related Posts