Proteus Exclusive Interview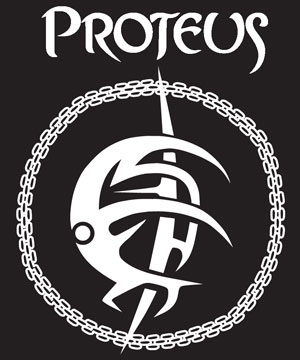 Proteus is a hard dance legend being voted by clubbers around the world as "Best Hard Dance DJ" two years in a row (2004/5) at the Hard Dance Awards and making DJ Mag's exclusive Top 100 DJ list these years as well!
As such Proteus can boast headline sets around the globe for the likes of Dance Valley, Frantic, Hardhouse Academy, Global Gathering, Creamfields, Impulz, Defqon1, Streetparade Zurich, Transmission Sydney, Utopia, Pharmacy, Enchanted Forest, Time Tunnel, Lab-4's Laboratory Experiment, Ground Zero, Sonic, Energy, Slammin Vinyl, Goodgreef, Tidy Summer Camp & Weekender and Torture Garden. This lead to Proteus supporting bands like The Prodigy and Juno Reactor!
Proteus and his friends are running their own club night called Säde in Helsinki, Finland which has been voted The Best Club in Finland at the Finnish Club Awards. Proteus is also organizing industrial/fetish events called Graveyard Party and Torture Torstai in Helsinki.
Besides of dance scene Proteus works very closely with Finnish industrial and metal scene. Proteus has done several remixes for Finnish bands and one the major ones has been remix for mighty Apocalyptica. Apocalyptica has sold millions of records worldwide and has done close work with legendary Metallica.
Proteus is also famous for his Proteus Live Show which is breaking boundaries between dance music and industrial metal concert. Proteus plays electric guitar, keyboards and percussions with his full band and they have done several big shows in Finland for 3000 people and for the full Brixton Academy in London!
We caught up with Proteus in one of his few spare moments…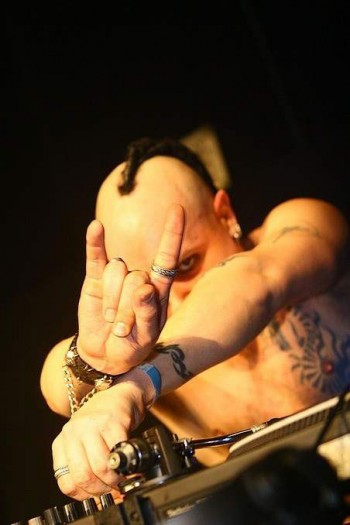 1. What are you working on at the moment?
I'm working on my second artist album at the moment. The album will be out in late spring and it's based on "Proteus remixes" for different bands and artists from different music scenes… very busy time at studio every day.
2. Where do you see dance music going in 2010?
It would be great to see hard dance getting bigger again after all this electro and minimal trend and I believe it will happen. People get bored when they hear same sounds all the time, it's time to get some raw energy to the market!:)
3. What makes a good DJ?
Definitely good choice of tunes and good basic technical mixing skills are the receipt to be a good DJ. It's really important that you are open minded with different music styles when you build your DJ sets. Also it's very important if you can create your personal style because there are million DJs there and that's not easy to do.
4. What's your favourite bit of kit, and how does it sit in your overall set-up?
In my studio I love my Macbook Pro, It's unbelievable reliable comparing to PC laptops. It's the center of all in my studio and it's surrounded by my mixers, synths and guitars. I use Logic and Ableton as my main software.
5. Tune of 2009/Most influential artist of 2009?
My favorite tune has been "Ultraform – I Feel". Ultraform is very talented Swedish producer and his I Feel tune is all about what I love in hard dance track; heavy, dark, energetic and industrial influenced. Most influential artist has been Lab-4, both Adam and Les. It's amazing how these guys rock the dance floors always as "number one" even they have been so long in the scene!
6. What can we expect from you in the future?
More tunes, endless touring and more own events in Helsinki! We will never stop!
7. How did you get into DJing?
Basically it all started with collecting records in the late 80- and early 90-. I went to my first rave parties here in Finland in 1992/1993 and saw DJs playing and crowd going crazy. I was thinking "wow!" and then I bought my first mixer and decks. All my friends saved money and bought cars and stuff but I put all my money to music. I had my first proper Proteus gig in 1995 and here we are now.
8. Favourite gig you have ever played?
Very difficult question because there have been so many great gigs. Definitely big festival gigs like Dance Valley, Global Gathering and Defqon1 have been amazing experiences but same time smaller club and underground warehouse gigs have been amazing too. Also when you play at your own events it's great when everything goes well after long hard work.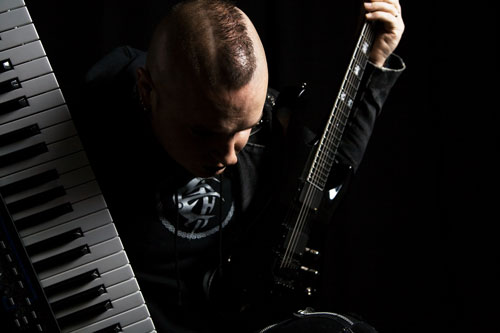 9. Event of 2009?
I would say Defqon1 festival in Sydney Australia was my favorite event of 2009. Absolutely amazing!
10. Twitter or Facebook?
Facebook, because it allows you to do so much more than Twitter. I have never been big fan of being in internet all the time. I prefer to use my phone if I need to reach somebody.
11. What is your most prized posession?
My engagement ring… love never dies ha ha!! Also my record collection is priceless: I have about 15 000 vinyls and thousands of cd albums. Different kind of music from goth rock to terrorcore techno!
12. What tunes are on your playlist at the moment?
My top3 are: DJ Guld – Hannya Proteus Remix, Miss Djax & Human Resource – Independence Day, Tommy Pulse – Messiah.
13. Cats or Dogs?
Dogs, I have one year old Portuguese Water Dog. It's my best friend and baby. It's unbelievable great when you come home and someone is always on good happy mood! People should learn lot from dogs ha ha!!
14. What is the weirdest experience you've ever had behind the decks?
I used to play lot at different kinky clubs in the past and it's unforgettable badly weird when somebody is jerking in front of you at the crowd when you are djing… not very nice ha ha ha!!!
15. What do you do in your time off?
I try to be as much as possible with my girlfriend and my puppy dog. It's most important that things are well in your home, in the end that is really what matters in everyone's life. Not always your career.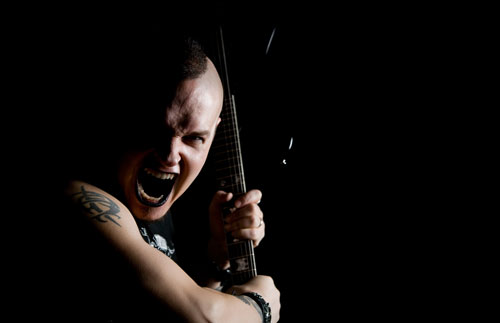 16. Have you ever received strange gifts from fans?
Yes many ha ha!! It's great! I have one shelf at my studio where I put all the gifts from my fans. The weirdest gift probably was "rubber fake sheep sex toy" which I received from Finnish girl fan many years ago. I had to throw it away because I didn't want that my girlfriend sees it and gets any wrong ideas of me ha ha ha!!!
17. What would be your ultimate holiday?
Just at least two weeks somewhere warm relaxing place with my girlfriend… and without any phones or computers.
18. What would you say is your best trait?
Many people say that I'm very kind and trustable person, I hope it's true ha ha! Also I'm hard worker and I believe that if you try enough you will reach your goals.
19. What was your first experience of Nukleuz?
My first experience of Nukleuz was old Nukleuz vinyl release "Astra – I Need It". It includes really good BK & dBm Mix! I used to play it lot in 1999! Great tune! Also I loved Hard Beat EP series.
20. Has it ever all gone completely wrong?
Yeah many times but we will survive! Ha ha ha!! Good humor helps when you face shit!
Check out the Proteus DJ Mix on Frantic 11 (2 CD Compilation)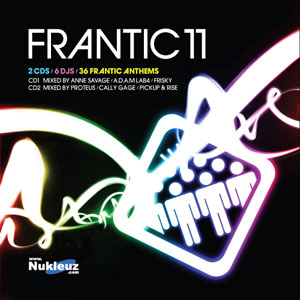 For more information:
www.djproteus.com
www.myspace.com/proteusfin
www.facebook.com/pages/Proteus/17712036908?ref=ts
www.dontstayin.com/parties/proteus
Related Posts