3rd Week Of Support From Judge Jules For Melodia
Judge Jules makes it a hat trick for the Clarks remix of Melodia's trance smash "Next To You" which picked up it's third spin in a row, playing it as the first track on his internationally respected BBC Radio 1 show.
Tracklist – Judge Jules – BBC Radio 1 (04/03/2011)
Melodia – Next To You (Clark's Remix)
Medina – Gutter (Blank & Jones Remix)
Marco V & Mo'Hawk – Ego Scene (Gordon Coutts Mash Up)
Damian William – Tutti Frutti
Carl Fath – 39! Move On Up
Marco V – Provider
Above & Beyond feat. Richard Bedford – Sun & Moon
Nero – Me And You (J&T Project Remix)
Organ Donors – Moogerfoogin (Scot Project Remix)
deadmau5 – Raise Your Weapon (Lee Osborne Remix)
Randy Katana – In Silence (Setrise Remix)
Tom Colontonio – Straight Out
Vincent de Moor – Fly Away (Mac & Taylor Remix)
Vincent de Moor – Fly Away
Lee Osborne – Questions
Gareth Emery – Too Dark Tonight (John O'Callaghan Remix)
Russo – Gateway
Ferry Corsten's Choice: Ferry Corsten – Punk 2011 (Arty Rock-n-Rolla Mix)
W&W's Choice: W&W – Ak47
Blank & Jones – Cream
Las Salinas – San Antoni (Ali Wilson & Tristan Ingram Remix)
Sander van Doorn – Love Is Darkness (Ummet Ozcan Remix)
Mw – Genetic City
Ronski Speed vs. Filo & Peri – Propane
DJ Scot Project – G(Ghost)
Lee Osborne – Nine (Ali Wilson Remix)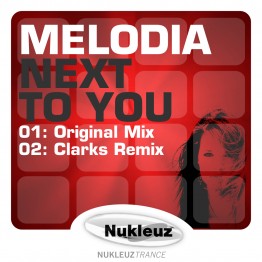 Pierre Pienaar follows up his monster anthem 'The Way' which picked up huge DJ support and featured as the first track on Ministry of Sound's recent 'Trance Nation' release, mixed by Andy Moor. Under his Melodia guise Pierre has created his own subtle, uplifting and inspiring trance sound that also works on the dance floor due to his own unique floor rocking vibes. On the flipside Pierre has turned to Clarks who provided the killer remix of 'The Way' alongside Setrise in return for Pierre's own superb remix of Clarks' own track 'Senza Fine'. 'Next To You' continues this legacy with both mixes offering a taste of summer and sun drenched beaches at a time when a lot of us need it the most. Bring on Miami!
Download from: iTunes, Beatport, TrackItDown, Juno, DJ Download, AudioJelly, DJ Tunes.
Related Posts