Bounce Adrenaline – iTunes Pre Order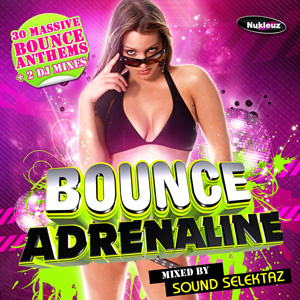 Following on from the successful Hardcore Adrenaline and Trance Adrenaline album series Sound Selektaz have teamed up with Nukleuz Records to unleash the debut Bounce Adrenaline album! 2 DJ Mixes and 30 killer tracks for only £6.99!
Pre-Order from:
iTunes
Trackitdown
Featuring Al Storm, Essex Boys, Ones & 2, Bass Slammers (Ministry Of Sound tours), Scott Brown, Total Control, The Naughty Boyz, Digital Gravity, Love Assassins, Axel Gear, and some exclusive mixes of Visa, Cortina, CRW, Mario Piu and of course tracks from Sound Selektaz and their Cue N Play label.
Bounce Adrenaline Facebook Page:
http://www.facebook.com/bounceadrenaline
LAUNCH PARTY: Be sure to come along to the launch party at Wigan Pier on Friday 26th November:
http://www.wigan-pier.co.uk/whats-on.asp
Related Posts