Cillit Bang / Durex deal leads to JAKAZiD ft Barry Scott revival
Source: http://www.metro.co.uk/news/835802-cillit-bang-cuddles-up-with-durex-in-a-2-5million-deal
Following a deal between Cillit Bang's parent company Reckitt Benckiser and Durex, JAKAZiD's infamous viral video phenomenon "Cillit Bang" featuring the legend of Barry Scott has come back into the limelight picking up a reference in the Metro newspaper and online.
In 2006 Nukleuz Records signed the track and gave it a huge boost. Immediately it became the # 1 Most Downloaded Video on 3 Mobile (20/10/06), # 1 Upfront Dance Track On O2 Mobile and drew additional radio support from Chris Moyles & Scott Mills on Radio 1, Christian O'Connell on Virgin Radio and was featured in the Guardian Newspaper, The Sun Online, Channel 5's "The Gadget Show" and more!
The original viral video sensation! This is one of those truly unique results of 21st century technology and youthful creativity. A viral video sampled from a cult TV advert for cleaning products branded Cillit Bang (whatever that means?), infused with some classic choice edits against a pounding hardcore dance track. Then it was uploaded to one of the many sites that allows users to post videos (not YouTube but Luckykazoo) and low and behold the whole online world was able to watch the totally humorous and crazy result. It was by far the most popular video on Luckykazoo logging up over 2 million views! Since then 14 separate people copied it and uploaded it to YouTube (now taken down due to copyright infringement).
So why on earth would a record company sign JAKAZiD and clear the rights of the visuals & audio from the world's largest producer of household cleaning products? Well why did the electric guitar make Rock 'n' Roll? This is the technology of now like the electric guitar was of the 1950's. This is what the youth get excited about in their bedrooms, and anyway, ask anyone in the street who Barry Scott is and you'll probably get the reply…
"Hi… I'm Barry Scott!! Look what it does to a Penny!"
You type in Barry Scott to Google and it's absurd. There are a number of spoof Barry Scott MySpace profiles where Barry Scott is frequently seen as "a legend". You can also join in the hunt to find out… WHO IS BARRY SCOTT!
You ask Chris Moyles or Christian O'Connel about Barry Scott. At the recent V Festival one festival-goer was interviewed on Radio 1 and was asked what famous people they had seen, answer – you guessed it – Barry Scott.
The final part of the musical jigsaw of this signing is the music. It's UK Hardcore. A sound that is huge with the less affected clubbing youth and a sound that Nukleuz Records has had much success with. If you still have no clue there have been well over half a million Hardcore albums sold in the UK in the past 18 months!!!
Nukleuz cares not one bit if this fits in any way the traditional parameters of a hit single. For starters it's clearly not a radio record, for second it is one and a half minutes long, and third it has nothing like a traditional artist. It's not even big in Ibiza or any other such nonsense because it's hugely popular and refreshingly different. Nukleuz intends making it available as CD single, music & video downloads, on mobile phones as vidtones, as ringtones and even as a 12" vinyl!! There is complete belief that this will be huge … even Christmas No1.
So there you have it. An illegal viral video made legal by the collaboration of an open minded record company, home cleaning products manufacturer, and a young man crazy and creative enough to put it all together.
Watch the interview with JAKAZiD about the creation of this internet phenomenon which to date has reached over 10 million online views!
Download the single from iTunes
Download the video from iTunes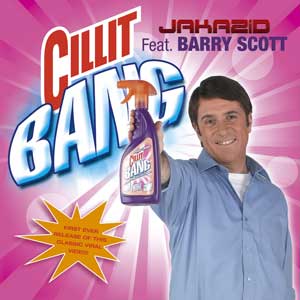 Article in The Guardian – "Infectious humour"
Saturday April 29, 2006
"Bored office workers have always known that email's main use is for passing on jokes. Now the advertising industry has woken up to the power of viral marketing, reports Kate Burt"
"But it's the bedroom uploaders who produce the real gems. "It's very difficult to compete with DIY virals," admits Smith. "The joy of them is that it's all just so totally random you never know what you're going to get next." Which pretty much sums up 17-year-old bedroom music producer Josh McInnes aka Jakazid (jakazid.net) from Portsmouth. When he saw the Michael Winner Esure advert on TV, he found it so hilarious that he made a homage – a hard dance remix called Calm Down Dear. When a friend uploaded his creation to "boredom" website b3ta.com, Josh's hotmail account crashed under the weight of fan emails. Inspired by the attention – not to mention the goody bag Esure sent him when they saw the clip – Josh made a follow-up, the Cillit Bang "hardcore cleaner" remix. So far Cillit Bang haven't sent a goody bag, though Josh has got a deal to release it as a single with happy hardcore label Nukleuz. "It's quite amusing to realise I could be making a fair amount of money from something that began as a joke," he says. Sadly for Josh, probably not as much as Esure made after having their advertising re-moulded for free."
Related Posts