Frantic Arena @ Tranz-mission 2010
Frantic will be hosting arena 3 at London's biggest indoor dance event of the Year – SV presents Tranz-mission 2010. Headlining this mahoosive event will be hard dance legends – Showtek, Lisa Pin-Up, Andy Whitby Alex Kidd Marg EG, Paul Glazby Vs Adam M, Frisky VS Cally Gage and Karim.
Not only that – there will also be a Drum & Bass arena with headliners such as Andy C and Mampi Swift, a Hardcore areana ft the scene leaders, Darren Styles Gammer and Lethal Theory live!
Also feat an Old Skool, electic and VIp lounge – all for the bargain price of £25 – sounds like a good way to spend the early hours of easter sat/Easter Sun. Full details below.
SV presents TRANZ-MISSION 2010.
London's biggest indoor dance music event of the year
Saturday 3rd April 2010
Easter Bank Holiday Weekend
Alexandra Palace
Alexandra Palace Way Wood Green. London. N22 7AY
8pm-6am all night
http://www.slamminvinyl.com
ARENA THREE – FRANTIC – HARD DANCE
SHOWTEK – Special international guests, Hard Dance DJs of the Year
LISA PIN-UP
ANDY WHITBY
ALEX KIDD
MARK EG
PAUL GLAZBY vs ADAM M
FRISKY vs CALLY GAGE
KARIM
SHOCKFORCE
D4RK
ARENA ONE – DRUM & BASS – ONE NATION
ANDY C
FRICTION
MAMPI SWIFT
NICKY BLACKMARKET
DANNY BYRD
FRESH
BREAK
SIGMA
DRUMSOUND & BASSLINE SMITH
SERIAL KILLAZ
MCs EKSMAN, SKIBADEE, SHABBA D, FEARLESS, HARRY SHOTTA, IC3, MC WREC, GQ, PRESHA, YOUNGMAN.
ARENA TWO – HARDCORE HEAVEN
GAMMER
DARREN STYLES
LETHAL THEORY LIVE! Featuring JOEY RIOT, KURT & MC ENEMY
(The Award-Winning label presents a brand new stage show, 100% live)
HIXXY b2b AL STORM (Breakthru DJ of the Year)
DJ SY
SCOTT BROWN
SQUAD-E
BRISK
DOUGAL
MARC SMITH
SEDUCTION
STYLUS & AUDIO JUNKIE
MCs STORM, WHIZZKID, ENEMY, SHARKEY, WOTSEE & STATIC
ARENA FOUR – RAINDANCE – OLD SKOOL
LIVE ON STAGE:
THE JILTED GENERATION – the worlds' number One Prodigy Tribute band
RHYTHM SECTION – Full Live PA
BEHIND THE DECKS:
SLIPMATT
NICKY BLACKMARKET b2b RAY KEITH
BILLY 'DANIEL' BUNTER
ELLIS DEE – Classic Jungle Set
DOUGAL & VIBES
PHANTASY with MC IC3
SQUIRREL & SKIE
ISOTONIK CREW
G MAGICAL
MCs MOOSE, 5ALIVE & 3-FLOW
ARENA FIVE – BRAINDROP – ECLECTIC
DUBSTEP, BASSLINE, D&B, TECHNO, ALL-OUT RAVE
THE MCMASH CLAN & VERY SPECIAL GUESTS
ARENA SIX – THE VIP LOUNGE
Chill-out in your very own VIP area.
TICKETS
£25.00 direct from Slammin' up until 31st January (No booking fee)
£30.00 direct from Slammin' up until 28th February (No booking fee)
£35.00 direct thereafter (No booking fee)
£35.00 + booking fee from all other outlets at all times
VIP TICKETS
£50.00 and available direct only from Slammin'.
Queue jump, VIP arena and bar, Free event programme.
DIRECT CREDIT CARD LINE (Office hours only)
0871 2887 250
ONLINE SALES: www.slamminvinyl.com
Alternatively call 0871 2887 260 / 0871 2887 270

Check out Frantic 11 compilation here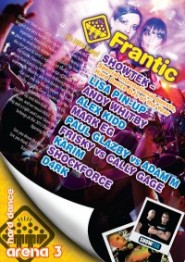 Related Posts