Frantic Residents NuBreed album series – Special Offer on iTunes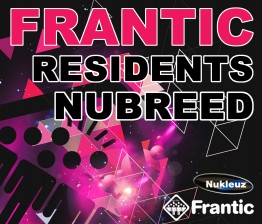 This series of Frantic Residents NuBreed albums aims to showcase the incredible crowd pleasing skills of Frantic's current crop of resident DJs. They are rocking dance floors every week with their own blend of tracks and unique mixing styles and include: Gem Stone, Matt Pickup, Future Resonance, Kevsey D and Wayne Smart.
For a limited time only you can now get all 5 albums in the series for only £4.49 each – that's about the price of a pint in london.
Grab'em quick.
Download now from iTunes:

Frantic Residents NuBreed Mixed by Gem Stone
Frantic Residents NuBreed Mixed by Wayne Smart
Frantic Residents NuBreed Mixed by Kevsey D
Frantic Residents NuBreed Mixed by Matt Pickup
Frantic Residents NuBreed Mixed by Future Resonance
Related Posts