Goodgreef announce NYD party @ Mission
Well, if you think you can handle it, Goodgreef have lined up a New Years Day party to round off the festive season at Mission, joining forces with Trance brand Digital Society.
The theme for this one will be stars and stripes – giving you the chance to paint the town Red, White and Blue!
Taking over the Xtra Hard nation in Arch 1 will be Dutch Hardstyle masters Headhunterz alongside Alex Kidd, Dark By Design and Phil York. Mark EG will be on hand along with Bionic residents Brian M and McBunn.
Hi Contrast's uber talented Jochen Miller will be taking over Arch 2 with Digital Society with label mate Cliff Coenraad,  as well as Greg Downey and Jordan Suckley, and Digital Society residents Kane Nelson, Harry Flower, Rav Tahkar and Paul Pearson.
The latest upcoming Trance, Hard Trance & Hard Dance DJs will be showcasing their skills as part of the Future Hereos over in Arch 3.
The Goodgreef New Years Day Party – Stars and Strips
@Mission Leeds – Friday 1st January 2010
Arch 1 – Xtra Hard
Headhunterz
Alex Kidd
Dark By Design
Phil York
Mark EG
Brain M & McBunn
Marc Doc
Rascal
Shaun T
Arch 2 – Digital Society
Jochen Miller
Cliff Coenraad
Greg Downey
Jordan Suckley
Kane Nelson
Harry Flower
Rav Tahkar
Paul Pearson
Matt Everson b2b James Alexander
Arch 3 – FUTURE HEROES
Digital Mafia
DJ Tone
Taz & Damo
Em Extreme
Liam Wilson
Sykesy
Jay Dee
Casa Mia
Toddy
Tickets: Early Birds Only £15 – Goodgreef.com
Standard Tickets £20+bf / M.O.T.D
Info 07790 774 550 / 0161 727 5290
www.goodgreef.com / www.clubmission.com / www.digitalsociety.co.uk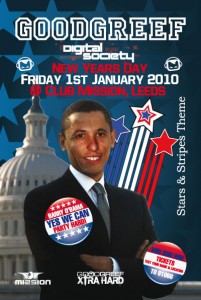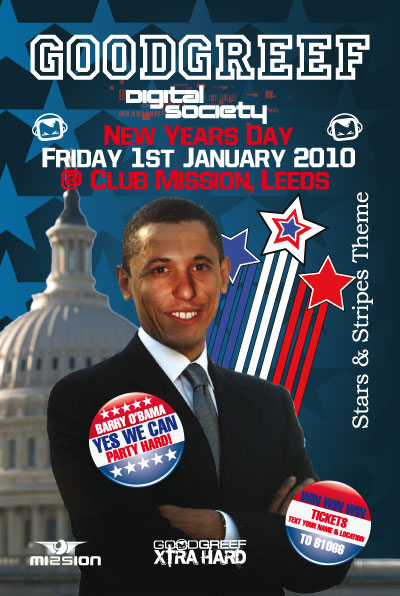 Related Posts