Hard Dance Awards 2011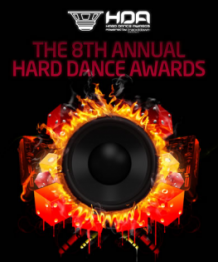 So this weekend was a big weekend for the some of the world's biggest award shows. Never mind the oscars, because this weekend saw the creme de la creme of the Hard Dance scene gather at The Emporium in Coalville to celebrate the Hard Dance Awards 2011.
Many congratulations to many of the Nukleuz Hard Dance friends who picked up an award on the night.
And the winner is…
Best UK Hard DJ
Winner – Kutski
(Kutski is Nukleuz best supporters, regularily playing Nukleuz releases on his BBC Radio 1 show – just last Friday he played the awesome Luca Antolini & Andrea Montorsi Remix of Cortina – Music is Moving http://www.bbc.co.uk/programmes/b00yhq84)
Sortlisted – Alex Kidd (regular guest remixes – check out the recent remix he did for Organ Donors – What's Up? and his awesome remix he did with Kidd Kaos on the classic, BK – Revolution
Mark EG
Best European Hard DJ
Winner: Headhunterz
Shortlisted – D-Block & S-Te-Fan
Showtek
Best International Hard DJ
Winner: Headhunterz (Appears on the classic album – Frantic 11 (Mixed by Anne Savage, Frisky & A+D+A+M lab4, Proteus, Cally Gage, Pickup & Rise)
Shotlisted: Showtek (Also appears on Frantic 11)
Noisecontrollers
Best UK Hard Producer:
Winner: Techncial (Have you heard Technikal's Under The Knife Remix of Organ Donors 'In Power')
Shortlisted: Klubfiller (Andy Whitby & Klubfiller remix of BK – Revolution)
Kidd Kaos (Kidd Kaos – no stranger to the Nukleuz Camp – check out his remixes on the 2 Nukleuz classics tracks, BK – Revolution and Organ Donors – 99.9)
Best European Hard Producer
Winner: Showtek
Shortlisted: Headhunterz
Noisecontrollers
Best Track
Winner: Headhunterz – Psychedelic
Shortlisted: Psyko Punkz – Bassboom
Showtek – Breakbeat Junkie
Best Label
Winner: Scantraxx
Fusion
Dirty Workz
Best Resident
Winner: Brian M & McBunn – Bionic
Jimmy Dean – Storm
Argy – Kiddfectious

Best New Face
Winner: Psyko Punkz
Shortlisted: Toneshifterz
Wasted Penguinz

Best Club Night
Winner: Bionic
Sortlisted: Good Greef
Storm
Best One Off Event
Winner: Def Qon One
Sortlisted: Decibel
Qlimax
Best Artist Album
Winner: The Pitcher – Smack
Sortlisted: Brennan Heart – Midifiles
Headhunterz – Studio Sessions
Best Compilation
Winner: Tidy Hard Dance Anthems
Sortlisted: Showtek – Fuck The System
Hard Dance Awards Euphoria

Regional Hero
Winner: L.E.D. (Check out the remix L.E.D. did earlier this month for our classic re-release of Cortina – Music Is Moving)
Sortlisted Argy
Sykesy
Outstanding Contribution
Winner: The Prophet
Shortlisted: Yoji
Billy Bunter
Related Posts