Hardcore EP 17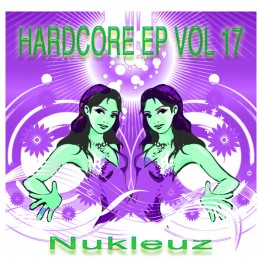 Following up from the recent success of The Hardcore Nation: Next Generation compilation and hot on the tails of it's predecessor, Hardcore EP 16, this four tracker is another banger the hugely acclaimed series.
Darwin once again features in the line-up for this one, with a Hardcore mix of one of this summers sure anthems, Connected Ft. Max'C, 'A Feeling', which combines the great vocal talent of Max'C with a big pumping beat, creating a Hardcore summer anthem in it's own right.
HNK are next up to bring back to life the old drum and bass classic, 'Shake your body', which is really brought to life by one of Nukleuz' main men JAKAZiD, giving the track his own touch of Hardcore breaks
The Nukleuz Kollective themselves step up for track number four with an Aduioscape Remix of 'Blood Is Pumping'. Big synth build ups and banging beats give this high tempo track all the standard features of a wicked Nukleuz & Audioscape tune.
Finally, it's Fretman & Alex F with their track 'Fire' with it's mashed up vocal and distorted synth creating a dark, sinister and system smashing track that definitely finishes the EP off with a bang!