Insomniacz & Tidy announce limited Christmas Party
Insomniacz and Tidy have announced a super-exclusive Christmas party that will be a must-attend event for the holiday season. As you all know Tidy Christmas parties are always rammed and we think that with Insomniacz on board this will be the Christmas party everyone will be at. It's going to be a strictly limited affair, with only 800 tickets up for grabs, so get on it soon to avoid any disappiontment!
To get you all in the mood, here's what Tidy are saying about the event:
"Lapland, a beautiful land of silent snow fall and polar twilight. An unspoilt vista of snow-clad pine trees, grazing reindeer and cosy log cabins where flickering log fires ensure the warmest of welcomes. Imagine all the most intimate atmosphere that any Hard House party offers, in a region above the Arctic Circle in a place with such beauty that the scenery, the magical atmosphere and, of course, the cold, cold air combine to take your breath away". Well here it is:
Winter Wonderland – Anne Savage, Lisa Pin Up, Amber D, Rob Tissera, Sam & Deano, Jon BW.
The Grotto – Andy Farley, Paul Glazby, Karim (dressed as Santa), ilogik, Ben Stevens, Rodi Style.
Rave On! presents the Secret Forest
Competition winners Arena. Are you the next big DJ? Then send us your mix and we will determine whether you cut the mustard or not. Please send your mix links to Santa's North Pole Post Office – santa@insomniacz.com – We will announce the DJ's that will get their big break on the 31st of November. What you waiting for? Get mixing god dammit!
Early bird tickets: 400 available at £10 from: https://www.theticketsellers.co.uk/buy_tickets/events/?id=10008908
Venue details: My House
(Formerly Stinky's Peephouse)
1 Brick Street, Leeds LS9 8AA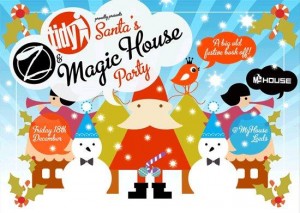 Related Posts