Interview with DJ da Dominator on his forthcoming mixed compilation album on Nukleuz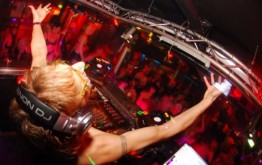 We asked Marcel Tullenaar aka DJ da Dominator a few questions about his forthcoming mixed compilation album, entitled Trance Fetish.
The compilation is scheduled for release on May 14th and features huge tracks from the likes of Organ Donors, PHATT, VinylGroover, Cortina, BK, many more and a HUGE continuous DJ mix from the one and only, DJ da Dominator!!
More information to be revealed soon…
Tracklist:
01 00:00 H3X – PHATT
02 02:51 White Russian – Fortuna and Casus
03 06:39 Forward Only – Santya Shelest Dima Revert
04 10:63 DJ da Dominator – Hidden Feelings
05 15:13 Let The Darkness In – Vanity In Mind
06 19:08 DJ da Dominator – Lost In Thought
07 25:05 Damage – Daniel Loubscher
08 29:27 DJ Da Dominator – Let Yourself Go [Original]
09 34:47 it All Comes Back – Lee Haslam Rmx
10 38:15 Revolution – Lee Haslam Remix (BK)
11 43:05 Everlasting 2010 – Midnight Mix – VinylGroover
12 47:40 Music is Moving – Kumara Remix (Cortina)
13 51:53 Guitarro – Nick Larson Rmx (Jamx)
14 54:27 Bobby Carraro – Darling's Revenge – SHOKK
15 59:03 Phoenix (Will Atkinson Rmx) – Melodia
16 1:02:13 Infinity – PHATT Dub (Fonzerelli)
17 1:05:46 Drifting – Project 101 (Darren Styles Rmx)
18 1:09:20 In Power – Organ Donors (Fabio Stein Rmx)
Interview with DJ da Dominator, Marcel Tullenaar.
DJ Da Dominator in da Mix:
What does this mix mean to you?
"It was really an honour when Nukleuz asked me if I would want to make a mix compilation release on their label. Nukleuz always was one of my favorite Record Label's from '99 till 2005, and still love the Nukleuz tunes! I still have all those Nukleuz Vinyl/Records in their boxes, never will do them away. I was feeling like a little kid in a candy store, with my wish-list sent to Nukleuz Office to receive all those Nukleuz Tracks. Thank You Santa Nukleuz. :-)"
How did you chose just 18 tracks from such an awesome catalogue?
"All those tunes I had selected for this Nukleuz Compilation Mix, I could and would use at my residents party's Toxic, Dominatrix, Boudoir Bizarre, & the BoeddhaClub Parties. I really love the 'Old School' influences from early 90's, you can also hear in this mix. (Revolution, Music is Moving, etc.). Drums, raw, big beat, breakbeat, energy, no long breaks, sweet vocals and warm sounds, trying to tell an uplifting story."
You mentioned an 'uplifting story', want to tell us more…?
"Starting with sweet nice slow tunes, to get *you (*The listener) in the flow of the mix. While your head is moving with the beat, your leg is tapping, or your fingers drumming, then I know, it will be the right flow. (LOL I just watched my girl while I mixed this Nukleuz mix).
I ain't a regular DJ that just puts the track into the other tracks, I want to play with those tracks, play with my mixing skill's, I love it! Turntable's, CD Players and Mixers are my music instruments.
Building up the mix is like good sex: Touching how far I can go, Passion, Feeling, Emotion, Trying to find out how far and hard *you (*The listener) can get.. Building this up to several climaxes, to the top!
The mix I mean, you naughty fan's! :-P
The beat will be pumping, the flow will build up with more energy.
This mixing all, with a lot feeling to get you with me, in this story I want to tell. The warm sounds and vocal's for to get those beautiful girls on the dance-floor, with closed eye's into the flow of the mix, total in trance,
and the ruff beat, pumping, bouncing, exciting energy for the men,
who are follow those exciting girls to bounce on the dance-floor. ;-)
Climaxes will follow for each, nobody will be forgotten!
TechTrance will let You flow, Just follow the stream, it wont let you be Lost in Thought, There are no Hidden Feelings, express yourself on the dancefloor, just follow your heart, LET YOURSELF GO !
Just be yourself!"
Anything else we should know?
"*Warning:
Don't play this upbuilding DJ da Dominator Mix in your car,
DJ da Dominator takes no responsibility,
any penalty of justice is own responsibility!
Enjoy da ride!"
Thanks for this brilliant mix Marcel! Looking forward to more in the future.
"Thanks all for support!
Cheers,"
xxx
DJ da Dominator
Website: www.DJdaDominator.nl
Facebook: https://www.facebook.com/DJ.da.Dominator
Artistpage: https://www.facebook.com/pages/DJ-da-Dominator/54986342939
iTunes: http://itunes.apple.com/artist/dj-da-dominator/id474957333
Related Posts