Kutski spins Cortina (L.E.D. Rmx) on Hard Dance Awards Special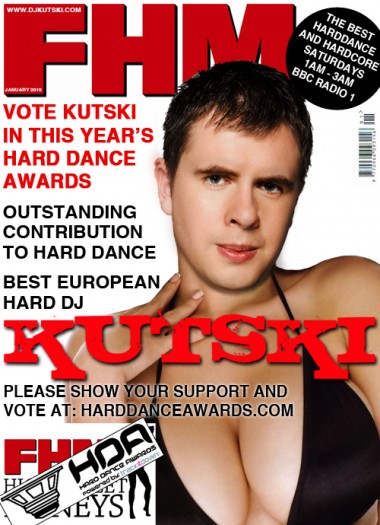 "Kutski catches up with a whole host of winners from the 8th annual Hard Dance Awards including Headhunterz, Technikal, Bionic, Sam Townend from Tidy and organiser Ed Real. He has a very special Freerange Mix representing the winners. Plus Radio 1's very own King of Hard Dance, Kutski, won Best UK Hard DJ – major woops!!! Think UV, think hard style, think RAVE FACE!"
The massive new remixes of legendary classic anthem Cortina "Music Is Moving" picked up another spin on Kutski's BBC Radio 1 show this week with the L.E.D. Remix being featured in the Freerange Mix bringing a total of 5 spins to the new package following previous support on the Nik Fish and the Luca Antolini & Andrea Montorsi Remix.
Kutski – BBC Radio 1 Show – Tracklist (04/03/2011)
Organ Donors – Nero Belongs (Mashup)
Subfocus – Move Higher (Joe-E Rework)
Lee Walls – Reboot 6
Busho – Music First (Busho Remix)
Luca Antolini DJ – Beautiful Place
Force 9 – 6 Crazy Days (Gigi Lav & Simon J Bergher Remix)
Unknown Artist – Everytime You Touch Me
Plan B – Love Goes Down (Doctor P Remix)
Kutski vs BRK3 – L4 Mp
James Dean – Can You Hear Me
Technikal – Heavens Touch
Cortina – Music Is Moving (L.E.D. Remix)
Ellie Goulding – Starry Eyed (Brian M & McBunn Remix)
Showtek – Breakbeat Junkie
Heady & Proppy – The B Side
Psyko Punkz – Bass Boom
Wildstylez – No Time To Waste (The Viper Remix)
D-Block & S-Te-Fan – Speed Of Sound
G-Town Madness vs. The Viper – Come As One (Brennan Heart Hardstyle Mix)
Brooklyn Bounce – Club Bizarre (Head Hunters & Noisecontrollers Remix)
Tnt – Scared
Firefly – Levitate
BK, Fabio Stein & Leigh Brooks – Smell My Finger
Bishop & Kickback – The Lie
Hixxy – Play Your Game
Kevin Energy & Douglas – Chop Suey Meets FM200 (Kevin Energy Megamix)
Clear Vu – I Adore (Gammer Rmx)
DJ Sy vs Re-Con – The Robot
Sharkey, Eryk Orpheus & Kevin Energy – Hit Ya Hard
Vinyl Junkie & DJ Faydz – Acid House Party
JFB feat. Eljah MC – Ruffneck
Luna-C – Success 'n' Mistreet
DJ Seduction – Subdub
Check out all of the mixes exclusive to Trackitdown:
CORTINA "MUSIC IS MOVING 2011"
!!!NUKLEUZ CLASSIC REBORN!!!
The biggest hard dance vocal of all time gets a killer rework for 2011 to celebrate 20 years of anthems and classics from Nukleuz Record's parent company Media Records Ltd. In fact the original Fargetta version practically defined the legendary Italo-House movement in the mid-90s! Now 5 brand new cuts from some of the most talented hard dance DJ / Producers in the scene feature alongside all of the classic mixes & mixes that first made the track a hit including the original BK & dBm Amber Remix.
YOU'VE HEARD THE HYPE, YOU KNOW THE SCORE THIS IS FUCKING MASSIVE…
"A true anthem of the new age of hardhouse and virtually inescapable already… Huge." Single Of The Month, Mixmag (1999)
Track Listing:
1) Cally & Juice Remix
2) L.E.D. Remix
3) Luca Antolini & Andrea Montorsi Remix
4) Nik Fish Hard Remix
5) Digital Gravity vs Essex Boys Remix
6) BK & dBm Amber Remix
7) Andy Whitby Remix
8) Gammer's Hardcore Remix
9) Matt Capitani & Tim Stokes Remix
10) BK & dBm Slingshot Dub
11) Karim Remix
12) Kumara Remix
13) Champion Burns Remix
Related Posts