Kutski spins Nik Fish remix of Music Is Moving
Kutski spins the hot new Nik Fish remix of Cortina "Music Is Moving" last Friday night on his BBC Radio 1 show (08/01/2011)
http://www.bbc.co.uk/programmes/b00wx2wg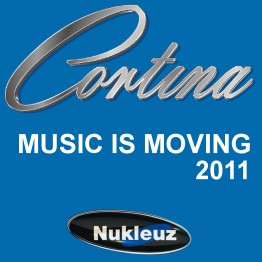 CORTINA "MUSIC IS MOVING 2011"
!!!NUKLEUZ CLASSIC REBORN!!!
Download now exclusive to Trackitdown:
http://www.trackitdown.net/genre/hard_dance/track/2961820.html
The biggest hard dance vocal of all time gets a killer rework for 2011 to celebrate 20 years of anthems and classics from Nukleuz Record's parent company Media Records Ltd. In fact the original Fargetta version practically defined the legendary Italo-House movement in the mid-90s! Now 5 brand new cuts from some of the most talented hard dance DJ / Producers in the scene feature alongside all of the classic mixes & mixes that first made the track a hit including the original BK & dBm Amber Remix.
YOU'VE HEARD THE HYPE, YOU KNOW THE SCORE THIS IS FUCKING MASSIVE…
"A true anthem of the new age of hardhouse and virtually inescapable already… Huge." Single Of The Month, Mixmag (1999)
Track Listing:
1) Cally & Juice Remix
2) L.E.D. Remix
3) Luca Antolini & Andrea Montorsi Remix
4) Nik Fish Hard Remix
5) Digital Gravity vs Essex Boys Remix
6) BK & dBm Amber Remix
7) Andy Whitby Remix
8) Gammer's Hardcore Remix
9) Matt Capitani & Tim Stokes Remix
10) BK & dBm Slingshot Dub
11) Karim Remix
12) Kumara Remix
13) Champion Burns Remix
Related Posts