Man Calls Police After Ecstasy Theft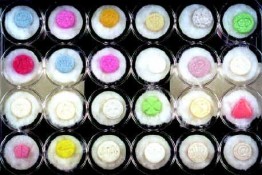 That's right, after a collection of over 2000 pills were stolen during a break in, a Dutch resident of Eerbeek, Holland decided the best thing to do would be to call the police. Risking arrest and possible incarceration he turned to the law in an attempt to recover his stolen collection – and they believed him!
According to the man he doesn't actually use drugs at all but he maintains that instead he is a collector, much in the same way one would collect stamps or football cards.
He argued that his real passion "comes from the varied collection of colours, shapes and logos that are printed on the pills… I've tried it (ecstasy) before but I didn't like it." The pills are thought to have a street value of around 11,000 euros.
His main worry is that someone might end up dead if they decided to take one of the 40 red and white pills in his collection which according to research are believed to be poisonous.
Police spokeswoman Esther Naber stated: "why would you make something like this up?" and maintains that she believes the collectors story.
Related Posts