Nukleuz: A Decade of Dance Mayhem – Year 2003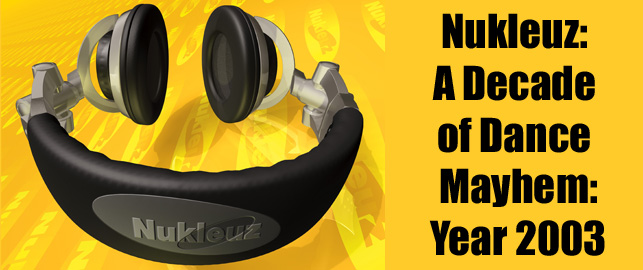 Nukleuz: A Decade of Dance Mayhem – Year 2003
A year that saw Nukleuz tie up with Euphoria and Tidy to make the first Extreme Euphoria CD. We have it on good authority that Ministry Of Sound (who bought the Euphoria brand from the bankrupt Telstar records) made all their investment back on the brand on this one release. It also saw Nukleuz spreading its wings with more partners than ever before but this resulted in a really successful release.
This year also saw new ventures with Rob Tissera, Sundissential and a whole raft of Frantic Residents releases with Steve Hill ruling the roost that year with his hard trance bootlegs making hime the main man in many events both at Frantic and all round the UK and Ireland. This year also saw the brilliant Klub Kollaborations album from BK where he worked with most of the big names in Hard Dance to create a unique slab of dance music history.
In 2003 a revolution started in the USA this year with iTunes music store starting up. We didnt get a chance to be part of this revolution until 2005 and everybody was extremely unsure about the impact of this service at the time. Seems absurd to think of it now but iTunes has rapidly risen to be one of the most important distribution channels in many record companies lives.
CDs
HardHouse Anthems 4 – Mixed by Ed Real & Rob Tissera [2003]
Big Room Tunes – Mixed by Trevor Reilly & Organ Donors [2003]
Hard Dance Anthems 2003 – Mixed by Nukleuz DJs [2003]
BK – Klub Kollaborations [2003]
Sundissential 3 – Mixed by Nick Rafferty & Ilogik [2003]
Frantic Residents 02 – Mixed by Andy Farley [2003]
Frantic Residents 03 – Mixed by Steve Hill [2003]
Frantic Residents 04 – Mixed by Phil Reynolds [2003]
Lisa Pin-Up – Biggest Baddest Mutha [2003]
Extreme Euphoria – Mixed by Lisa Lashes, BK & The Tidy Boys [2003]
Check out the CDs we have in stock
Singles
Real & Richardson ft JoBabe – Sunshine On A Rainy Day
Clive King & Scott Marten – Total Confusion
BK – Klub Kollaborations EP 2
DJ Destiny vs Organ Donors – What's Up?
BK & Andy Farley – Accelerate
Nick Lunn & YOMC – Energize
Organ Donors – Looking For Drugs
Lisa Pin-Up – Goes Like This (Bang!)
DJ Nation: Harder Edition
Joy Kitikonti – Pornojoy
Prime Mover – Black Dogs
Alphazone – Rockin'
BK – Stay High
Hard Trance EP 3
Frantic Residents EP 2
Pavo & Zany – Here We Go
Project Jupiter – The Drill Sergeant
Check out the 12″ Vinyl we have in stock
Events
Check out more classic Nukleuz & Frantic event fliers on Frantic's Facebook Page
JP @ Hard House Academy 25-02-2003

CRASHER 2003 (The NEC Arena) – The kings of hard dance Frantic and Nukleuz take their sound to the next level with their boldest line up yet. In true hard dance style the Frantic vs Nukleuz arena is set to be a real stormer! Kicking off proceedings in her own inimitable style is the first lady of dance Lisa Lashes. Lisa is joined by fellow hard-dance don Eddie Halliwell and Sundissential, Frantic and Storm resident Andy Farley. The Tidy Boys add the unmissable Tidy Trax sound and vibe to the arena alongside the floor filling BK, energetic and sexy hard house diva Anne Savage, the vicious and psychotic club land legend Rob Tissera and cutting edge young contenders Paul Glazby, Ed Real, Cally & Juice, Guffy & Shaun and Galaxy FMs very own Paul Kershaw.
Line-up: Ferry Corsten, Judge Jules, Matt Hardwick, Scott Bond, Armin van Buuren, Dave Dresden, Josh Gabriel, Paul van Dyk, Tiesto,
Bugged Out 2: Dave Clarke, Green Velvet, Robertson, Plump DJ's, Audio Bullys.
Frantic 3: Anne Savage, Eddie Halliwell, Lisa Lashes, Paul Glazby, Rob Tissera, Tidy Boys, Andy Farley, BK.
ENERGIZE – MASSIVE EVENT FRIDAY 6TH NOVEMBER @ TNT hull's newest hardhouse hardtrance night 'proudly' presents two of the uk's biggest harddance producers/djs ""BK & NICK SENTIENCE"" TIDY TRAX – NUKLEUZ – RIOT – SLINKY FM plus local djs.. Alfa – Jammerz – Dave Wilson giving you the finest in hardhouse/hardtrance @ TheNewTower club (TNT) in hull (10pm – 4am) see eflyer for more info. The Revolution Begins
Related Posts