Nukleuz Hard Dance Classics – Coming Soon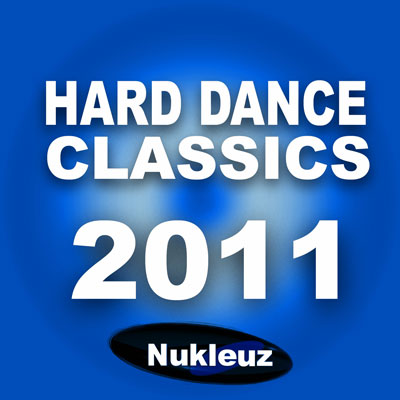 Pre-Order from iTunes:
http://itunes.apple.com/preorder/nukleuz-hard-dance-classics/id413638312
Thrown out all your vinyl? Scratched them to pieces? Then why not collect 24 of the biggest tracks from the Nukleuz back catalogue in glorious DJ friendly digital form with 2 free DJ mixes as a bonus? Nukleuz's parent company celebrates 20 years of hits, anthems and championing the hottest undiscovered talent in 2011. To celebrate the current staff have delved into the vaults of history and carefully selected our favourite tunes, classics, underground anthems and underrated gems from across the years. Each mixed and mastered by Nukleuz Head of A&R Dave Louca and our studio production hero Josh McInnes aka JAKAZiD.
NUKLEUZ HARD DANCE CLASSICS
"Hard House is arguably what Nukleuz is best known for and the success within the genre lead to the label becoming the UK's number one dance label based on vinyl sales selling over 1.5 million vinyl records in 3 years! Now called Hard Dance the genre has continued to grow and diversify with a wealth of established and new artists. "Nukleuz Hard Dance Classics 2011" showcases the biggest tunes and artists that worked together with the label to help kickstart the scene alongside some more recent releases that have helped shape and define the genre. These include BK, Andy Farley, Lisa Pin-Up, Nick Sentience, Organ Donors, Andy Whitby, Cally & Juice, Fergie, Vinylgroover, Paul Glazby and more!
BK is obviously the star here. Working as inhouse producer for Nukleuz in the early days of the scene Ben has gone on to release some of the most definitive hard house track ever and has a portfolio of over 150 productions and remixes to date! As a result the prolific BK features on this album 11 times including the last vinyl only top 40 hit in the UK, "Revolution" and my personal favourite "Funk Addiction". Although his collaborations with leading artists in the scene are no less spectacular including "Flash" (with Nick Sentience), "Khemikal Imbalance" (with Andy Farley) and "Hoovers & Horns" with Fergie.
Two enormous compilations "Hard House Anthems" and "Hard House Nation" helped catapult the genre, Nukleuz and it's artists into the lime light selling in total over 350,000+ units. Combined with weekly club support at each of the massive raves like Frantic tunes like "Music Is Moving", "99.9", "The Beginning", "Concentrate", "Baddest Mutha", "Future Acid House" and "Move Your Body" all became bonafide classics. In fact "Flash" was one of the first vinyl's I ever bought.
For me Cally & Juice "All You Bastards" was a memorable signing. We all loved the quirkiness of the vocal and knew it would do well. But we were not prepared for the level of support it finally achieved, selling thousands of copies on vinyl alone and needing repressing multiple times!
The success of Andy Whitby is something i'll never forget, after being spotted by Frantic as one of the most exciting new talents they had ever heard he quickly became the biggest new DJ in hard dance and a fan favourite. Nukleuz soon gave Andy Whitby the opportunity to mix one of the best selling Frantic Euphoria albums ever on Ministry of Sound which elevated his career even further. At the same time, Nukleuz encouraged Andy to create his own tracks, making several in our London studios and collaborating with other producers around the country. By far his biggest success features on this album "Everybody's Free", with Matt Lee (aka Gammer)." Dave Louca – Head of A&R @ Nukleuz.
NUKLEUZ HARD DANCE CLASSICS 2011 TRACKLIST
MIX 1
1) BK 'Stay High – Original Mix'
2) Lisa Pin-Up 'Blow Your Mind (I Am The Woman)'
3) Andy Whitby & Matt Lee 'Everybody's Free – Original Mix'
4) BK 'Revolution – Original Mix'
5) Cortina 'Music Is Moving – BK & dBm Amber Remix'
6) Cracked Logic 'We Dare The Radio Stations To Playlist Our Record, They Say It's Noisy, We Say They're Lazy – Bendin' Mix'
7) BK & Dave Randall 'Tiptronic'
8) BK & Nick Sentience 'Flash – Original Mix'
9) Matt Lee 'Go'
10) Andy Whitby vs Audio Hedz 'Rokk Ya Body – Matt Lee Remix'
11) Organ Donors '99.9 – Original Mix'
12) Cally & Juice 'All You Bastards'
MIX 2
1) BK 'Funk Addiction – Original Mix'
2) Dean Peters & The Edison Factor 'The Beginning – BK's The End Mix'
3) Lisa Pin-Up 'Baddest Mutha – Original Mix'
4) Andy Farley 'Concentrate – Original Mix'
5) BK 'Bad Ass – 3am At Convergence Mix'
6) BK & Andy Farley 'Khemikal Imbalance – Original Mix'
7) Lisa Pin-Up 'Future Acid House – Prime Mover Remix'
8) Cortina 'Higher – BK Mix'
9) Fergie & BK 'Hoovers & Horns – Ingo Remix'
10) Eternal Rhythm 'Eternal '99 – BK & dBm In2Orbit Mix'
11) Vinylgroover And The Red Hed 'Move Your Body – Original Mix'
12) Paul Glazby 'Motherf*cker'
Pre-Order from iTunes:
http://itunes.apple.com/preorder/nukleuz-hard-dance-classics/id413638312
Related Posts