Nukleuz Hardcore Classics 2011 – Coming Soon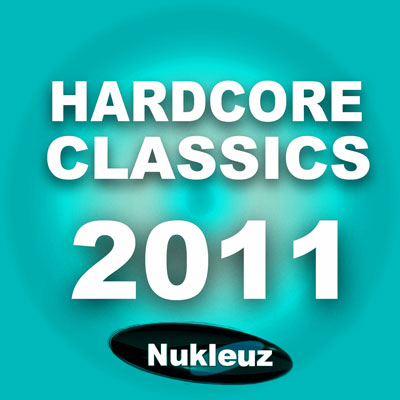 Download from iTunes:
http://itunes.apple.com/album/nukleuz-hardcore-classics/id411293288
Thrown out all your vinyl? Scratched them to pieces? Then why not collect 24 of the biggest tracks from the Nukleuz back catalogue in glorious DJ friendly digital form with 2 free DJ mixes as a bonus? Nukleuz's parent company celebrates 20 years of hits, anthems and championing the hottest undiscovered talent in 2011. To celebrate the current staff have delved into the vaults of history and carefully selected our favourite tunes, classics, underground anthems and underrated gems from across the years. Each mixed and mastered by Nukleuz Head of A&R Dave Louca and our studio production hero Josh McInnes aka JAKAZiD.
NUKLEUZ HARDCORE CLASSICS
Pre-Order now from: iTunes
"For Nukleuz Hardcore Classics 2011 I have selected the biggest classic tunes and club anthems that I have seen get a whole club jumping, especially the monstrous Visa "Fly Away". I combined this with some of the most critically acclaimed tracks from our Compilation Chart topping "Hardcore Nation" and "Hardcore Adrenaline" albums and added some personal favourites including Sy & Unknown's remix of my own tune Filthy Louca "Teardrops" and Darwin "Promise Me (4 o Clock). Over the 2 discs we've managed to include tracks and mixes from artists who have dominated the scene for over 15 years including Breeze & Styles, Hixxy, Stu Allan, DJ Seduction, Visa, Dougal & Gammer, Sy & Unknown, Robbie Long & Stormtrooper and Vinylgroover as well as proudly showcasing some of the finest new blood such as DJ Kurt, Jamie Ritman, Darwin, InEffect, Flyin & Storm. We hope you enjoy the DJ mixes and 24 tracks as much as we have enjoyed creating them! Out soon for less than a pint of London beer ☺!
Compiling the Hardcore Nation albums and even getting the opportunity to DJ mix the Bonus Bootlegs Mix CDs for the Hardcore Adrenaline compilations was one of the highlights of my life. Reaching #2 in the UK Compilation chart and hitting the Top 10 each time was an incredible achievement especially when releasing 4 in a year! The first compilation even became the highest selling hardcore album in the past decade (before Clubland's Xtreme Hardcore albums). However, the most rewarding part of the process was being able to create one of the only hardcore albums where if you're tunes were good enough you could feature on this album and we went out of our way to find producers hiding under rocks who previously had not even had a single released. These were then signed up to Nukleuz and fully released and now are proudly displayed as a part of this album. These artists were so good that we asked them to remix some of our biggest classics which also feature here. I am proud to have been a part of these projects and shining a light on some previously overlooked but outstanding talents in the scene. Thank you to you all for the hard work and amazing music!" Dave Louca – Head of A&R @ Nukleuz
NUKLEUZ HARDCORE CLASSICS 2011 TRACKLIST
MIX 1
1) 4 Rising Stars 'Feelin' Me – Breeze & Styles Mix'
2) Audioscape 'Walk Away – Breeze & Styles Hardcore Remix'
3) Darren Styles & Mark Breeze Present Futureworld 'Chemical Love – Jamie Ritman Remix'
4) Darren Styles & Mark Breeze Present Infextious 'Let Me Fly – Jamie Ritman Remix'
5) DJ Destiny 'What's Up? – Dougal & Gammer Hardcore Remix'
6) Angel Eyez 'Twilight – Deejay Bee & In Effect Remix'
7) Love Assassins 'Teardrops – Sy & Unknown Remix'
8) Darwin 'Promise Me (4 o Clock)'
9) InEffect & Miss Special K ft Andy L 'Outerlimits'
10) Ineffect & Gammer feat. Andy L. 'We Come Alive'
11) Cortina 'Music Is Moving – Gammer's Hardcore Remix'
12) Visa 'Fly Away – Hixxy Mix'
MIX 2
1) Stu Allan 'A Feeling – DJ Seduction Hardcore Remix'
2) Ineffect & Gammer feat. Ali 'Stuck in a Moment'
3) Gammer 'Liberation (Fly Like An Angel)'
4) Visa 'Gave You My Love – Visa 2005 Mix'
5) Visa 'All I Need – Visa Mix'
6) Visa 'Let Me See Ya Move – Sy & Unknown Remix'
7) Vinylgroover And The Red Hed 'Everlasting – Flyin' & Storm Remix'
8) Lisa Pin-Up 'Goes Like This (Bang!) – Robbie Long & Stormtrooper Remix'
9) Fergie & BK 'Hoovers & Horns – Robbie Long & Stormtrooper Remix'
10) Cally & Juice 'All You Bastards – Robbie Long & Stormtrooper Remix'
11) BK 'P.O.S. 51 – Robbie Long & Stormtrooper Remix'
12) Fonzerelli 'Moonlight Party – DJ Kurt's VIP Mix'
Download from iTunes:
http://itunes.apple.com/album/nukleuz-hardcore-classics/id411293288
Related Posts