Nukleuz on DJHero
Well, we couldn't really let this one slip by, so now it's time for our take on a game that has divided opinion in the dance music world. Some say that it's going to be nothing but good, getting young kids into dance music and DJing, while others seem to think it's just making a mockery of the DJ.
Having had a go on the game at ADE 2009, we can say for a start it's nothing like DJing live in front of a crowd. But then again, it's not meant to be, it's just a game that you can have a laugh on at home! For that, it's up there with the best of the Hero series from Activision, including Guitar Hero and the full band option of World Tour.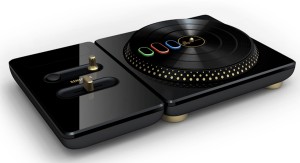 The sturdy little controller looks like a proper turntable platter, with full 360-degree rotation, but that's about where the similarity with a good old 1210 ends. There's three buttons on the top of the platter, in much the same way the guitar hero controller has the fret buttons, except they control the two tracks, and the center button controls samling between the tracks.
On the left (or right – you decide) of the platter you get the crossfader, which to be honest is a bit loose and hard to find a centre position on. You flick it left or right according to the on-screen instructions to fade and chop and change between the tracks. Above this you get the effects dial and the "Euphoria" button, which is just like the star power buttons from earlier games.
As for the music, well it's a good range of tracks, from classic artists such as Afrika Bambaataa and the Beastie Boys through to modern highlights from artists like DJ Shadow, Daft Punk, Eric Prydz and The Scratch Perverts. It's a varied tracklisting for sure, but obviously we'd prefer it if they came out with some harder and faster tunes to really up the tempo of the game!
Overall, we would recommend DJ Hero. While the music may not be to everyone's tastes, it's a challenging and refreshing change for the music game genre. If you've looked at the setlist and come up blank, then this probably isn't the game for you, but we think it could pave the way for a more inclusive style of music within gaming, and if it nudges some future stars towards dance music and becoming a professional DJ, then that's good for all of us!