Nukleuz Tech Trance Classics 2011 – Coming Soon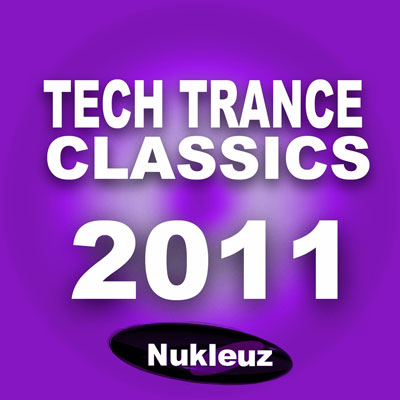 Thrown out all your vinyl? Scratched them to pieces? Then why not collect 24 of the biggest tracks from the Nukleuz back catalogue in glorious DJ friendly digital form with 2 free DJ mixes as a bonus? Nukleuz's parent company celebrates 20 years of hits, anthems and championing the hottest undiscovered talent in 2011. To celebrate the current staff have delved into the vaults of history and carefully selected our favourite tunes, classics, underground anthems and underrated gems from across the years. Each mixed and mastered by Nukleuz Head of A&R Dave Louca and our studio production hero Josh McInnes aka JAKAZiD.
NUKLEUZ TECH TRANCE CLASSICS 2011
"Alongside the uplifting trance sound we have been building on the other reputation Nukleuz started in the late 90s and early 00's, for tougher edged trance and techno (BXR). "Nukleuz Tech Trance Classics 2011" is a showcase for the work of some of these classic artists alongside current leading lights and emerging talents coming through the UK label.
One of the biggest defining moment was Mauro Picotto returned to Media Records UK in 2007 and unveiled "Ibiza Angel" as one of his string of new singles which was a rework of his classic track R.A.F. By Picotto & GiGi D'Agostino "Angel's Symphony". Rex Mundi's remix completed this package and gave the track a more club driven feel and caught the attention of Armin, Ferry Corsten, Markus Schultz, Kyau & Alberts, Ernesto vs Bastian, Mark Sherry, Sander van Doorn and Marco V.
After getting his first release played on BBC Radio 1 by Judge Jules, Will Atkinson immediately stood out as a great talent. We loved his style and searched him out on MySpace before signing one track and 2 remixes from him.
Organ Donors have been a part of Nukleuz since their formation and so it was only right to feature some of their classic tech-trance releases "4 Tribes" (taken from the Top 40 DJ Nation project and their artist album, "Plastic Surgeons") & the Hertz remix of "Wave Guide System". In 2009 the boys called in artists they admire and friends to remix their whole catalogue signed to Nukleuz in a project titled "Under The Knife". There were so many killer reinterpretations of their tracks that it was hard to pick a favourite. But eventually I went for K90's mix of "Locked Trance", Scot Project's remix of "99.9" & Fabio Stein's remix of "In Power". Check out their album to hear them all!
Other exciting additions to the label have been the return of S.H.O.K.K. and a strong set of releases from DJ Choose. Our first signing from Lasse was "DJs Take Control", a collaboration with Michael Splint which hit #1 on Trackitdown and setup a long standing relationship of releasing high quality records. And my personal favourite Slinky and former Tidy Trax A&R man Lee Haslam's massive techy remix of BK's Top 40 hit "Revolution" (which was the last vinyl only top 40 hit in the UK!).
For those of you looking for the harder edged material that came out of the world famous Italian offices of Media Records in the mid-90s and early 2000's which launched the careers of Mauro Picotto, Mario Piu, Gi-Gi D'Agostino, Joy Kitikonti, Cappella and CRW among others check out the forthcoming Trance Classics album." Dave Louca – Head of A&R @ Nukleuz.
We are exceptionally proud to have worked with all these great producers and hope you enjoy the tunes too!" Dave Louca – Head of A&R @ Nukleuz.
NUKLEUZ TECH TRANCE CLASSICS 2011
MIX 1
1) Melodia 'Phoenix – Will Atkinson Remix'
2) Kenzie & Cobain ft Mikee 'High On Life – Charlie G Mix'
3) Melodia 'It All Comes Back – Lee Haslam Remix '
4) Mauro Picotto 'Ibiza Angel – Rex Mundi Remix '
5) Connected ft Max'C 'A Feeling – Will Atkinson Darker Dub'
6) Stuart Millar 'Rise – Original Mix'
7) Will Atkinson 'Perpetual Sunrise – The Tribal Re-Rub'
8) Michael Dow 'Junglist'
9) Organ Donors 'Locked Trance – K90's Under The Knife Remix'
10) Kenzie & Cobain 'Randomize – Charlie G Remix'
11) S.H.O.K.K. '4 Of A Kind – Original Mix'
12) S.H.O.K.K. 'Bobby Carraro – Darling's Revenge'
MIX 2
1) BK 'Revolution – Lee Haslam Remix'
2) DJ Choose & Fredin 'ASD – Original Mix'
3) Organ Donors '99.9 – Scott Project's Under The Kniife Remix'
4) P.H.A.T.T. 'Shockwave – DJ Choose Remix'
5) DJ Choose 'Saw Blade – Original Mix'
6) Organ Donors 'In Power – Fabio Stein's Under The Knife Remix'
7) Aurosonic pres Up n Go 'Untouchable – Club Mix'
8) DJ Choose & Michael Splint 'DJs Take Control – DJ Choose Remix'
9) Love Assassins 'Teardrops – Kenzie & Cobain Red Vocal Remix'
10) Vinylgroover And The Red Hed 'Everlasting – Neal Thomas Remix'
11) Organ Donors 'Wave Guide System – Hertz Remix'
12) Organ Donors '4 Tribes – Original Mix'
Related Posts